About Roof Maxx of Westlake, OH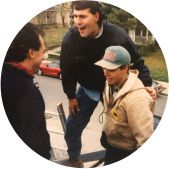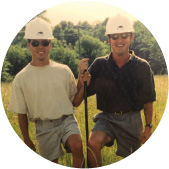 Roof Maxx: providing the most affordable roofing in Westlake, OH.
We're experts in the roofing industry.
Our founders, brothers Mike and Todd Feazel, first entered into the roofing industry in 1988. Together, they launched a roofing company that quickly grew into one of the largest in the nation. During that time, they became experts in the industry. In 2013, Mike and Todd sold their roofing company and turned their attention to sustainable and quality affordable roofing for places like Westlake, OH.
With the help of Battelle Laboratories, they created a roof rejuvenation treatment that's saving homeowners thousands of dollars on roof rejuvenation. Roof Maxx is made from natural, plant-based oil that penetrates deep into shingles and restores their original flexibility and durability. As a result, old roofs are strengthened and gain five years of life. This revolutionary product costs a fraction of most roof replacement projects and is keeping more money in your pocket.
My brother and I could see the staggering number of roofs at risk across the country and wanted to do something about it. Now, through Roof Maxx, we're looking out for asphalt roofs, the people under them, their hard-earned money and the planet.

Mike Feazel
CEO, Roof Maxx
We're extending the lifespan of roofs everywhere with a single treatment.
Today, Roof Maxx is proud to provide the most affordable roofing in Westlake, OH. A single treatment of Roof Maxx can extend the lifespan of your roof by five years, and up to 15 with regular treatments. This means you can postpone the need for costly roof replacement and save your budget for more pressing home or business maintenance projects.
Today, Roof Maxx is proud to provide the most affordable roofing in Westlake, OH. . With the help of our talented technicians, we're helping make the community a better place by providing an affordable service that can keep your roof strong for years to come. If you've been looking for affordable roof rejuvenation, contact Roof Maxx for a free estimate today.
Contact a Roof Maxx dealer in Westlake, OH
Roof Maxx is the number one choice for affordable roofing in Westlake, OH.
Five Year Transferable Warranty
With our five-year, transferable warranty, you'll enjoy the peace of mind that your roof and entire home are protected.