About Roof Maxx of Cambridge, OH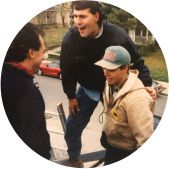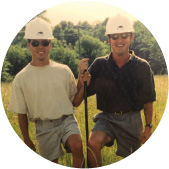 The story of Roof Maxx affordable roofing in Cambridge, OH.
We have over 25 years of experience as roofers.
Our founders, brothers Mike and Todd Feazel, began working in the roofing industry when they started their business in 1988. Over 25 years, they were able to grow their company into one of the most successful roofing businesses in the country. During this time they learned everything they could about the way roofing materials are manufactured.
When asphalt became more expensive, shingle manufacturers were forced to use less of it, and it's the natural oils found in asphalt that gives shingles their flexibility and effectiveness. Fewer oils cause shingles to fail more quickly than ever before. Our founders were determined to create a solution to provide quality affordable roofing in places like Cambridge, OH, and all over the United States through roof rejuvenation products that could restore and strengthen aging shingles and extend their lifespan.
My brother and I could see the staggering number of roofs at risk across the country and wanted to do something about it. Now, through Roof Maxx, we're looking out for asphalt roofs, the people under them, their hard-earned money and the planet.

Mike Feazel
CEO, Roof Maxx
Today we make affordable roofing in Cambridge, OH possible.
Mike and Todd decided to sell their roofing company in 2013 so they could channel their time and resources into finding and creating sustainable roof rejuvenation solutions. They collaborated with Battelle Laboratories, the world's largest private research and development company, to create innovative technology for roof rejuvenation.
With Roof Maxx, you can treat your roof with an all-natural bio-oil that restores dry and cracking shingles. This process restores strength and flexibility to your shingles and allows them to continue protecting your home for five additional years. With three treatments every five years, you can add 15 years to the life of your roof. Roof Maxx proud to serve the southeast Ohio area and provide affordable roofing in Cambridge, OH. Schedule a free estimate with us today.
Connect with Roof Maxx of Cambridge, OH
Roof Maxx is your trusted and affordable roofing resource in Cambridge, OH.
Five Year Transferable Warranty
With our five-year, transferable warranty, you'll enjoy the peace of mind that your roof and entire home are protected.