About Roof Maxx of Lake Jackson, TX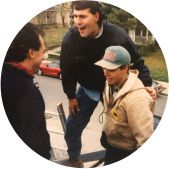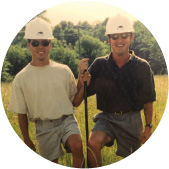 Affordable roofing in Lake Jackson, TX
We've dedicated over 25 years to the roofing industry.
The founders of Roof Maxx, brothers Mike and Todd Feazel, started a roofing company back in 1988. They dedicated the next 25 years of their lives to building it into a successful business, and they learned a great deal about roofing. They also witnessed first-hand the decline in the quality of asphalt shingles.
Asphalt shingles contain oils that keep them flexible and able to withstand big shifts in temperature. As the oil refinement process changed over the years, producing asphalt shingles became more expensive, and shingle manufacturers compensated by using less asphalt. The result was that asphalt roofs weren't lasting as long as they used to, making quality affordable roofing in towns like Lake Jackson, TX more difficult to find.
My brother and I could see the staggering number of roofs at risk across the country and wanted to do something about it. Now, through Roof Maxx, we're looking out for asphalt roofs, the people under them, their hard-earned money and the planet.

Mike Feazel
CEO, Roof Maxx
Roof Maxx is the solution to affordable roofing in Lake Jackson, TX.
Mike and Todd saw a need for roof rejuvenation, so they sold their roofing company in 2013 and began focusing their efforts on extending the life of a roof. They partnered with Battelle Labs, the nation's largest R&D company, to create our innovative Roof Maxx treatment. You'll add five years to your roof with just one application at just 20% of the cost of roof replacement. You can even extend the life of your roof by up to 15 years with three total treatments at five-year increments. We've created a sustainable roofing solution that saves you thousands while also keeping unnecessary waste out of local landfills.
Roof Maxx brings Brazoria County a new all-natural, scientifically-formulated and tested solution that keeps your roof lasting for years to come. No longer do you have to replace your roof every 8, 10, or 12 years when it can be rejuvenated to last longer for a lot less. Our goal is to provide 5-star service for each and every customer, and we strive to help our community first and save roofs second. Contact us today to schedule a free estimate for affordable roofing in Lake Jackson, TX.
Connect with Roof Maxx of Lake Jackson, TX
Roof Maxx is your affordable roofing resource in Lake Jackson, TX.
Five Year Transferable Warranty
With our five-year, transferable warranty, you'll enjoy the peace of mind that your roof and entire home are protected.