ROOF MAXX OF
Sugar Land, TX
Roof Maxx a safe, easy, proven and affordable alternative to a complicated, expensive and life-disrupting asphalt roof replacement.
AS SEEN ON:

Protect your home at a fraction of the price with our roofing company in Sugar Land, TX.
Although asphalt shingle pricing has gone up, the quality has decreased. There are more fillers than ever before in asphalt shingles, causing them to break down more quickly. Luckily, Roof Maxx has discovered a way to extend your roof life at 20% of the cost of a roof replacement. For example, instead of paying around $12,500, you could pay closer to $2,500 while adding up to 15 years of life to your roof. Begin saving by calling our roofing company in Sugar Land, TX, today.
Improve your big Texas lifestyle with Roof Maxx.
Hurricanes, tornadoes, and rainstorms can all damage your roof, causing cracks, dents, and rolling. Roof Maxx is a 100% all-natural, plant-based product that is water-resistant and adds extra protection to your house. Our roofing company in Sugar Land, TX, wants to make sure you are prepared for whatever weather comes your way, so you can enjoy the rainbows after the storm. Add Roof Maxx to your shingles and avoid costly damages from leaks and other roof repairs.
Is Roof Maxx all it claims to be?
Not only is our Roof Maxx penetrate a solution to poorly made asphalt shingles, but our plant-based formula keeps your house members safe and healthy without causing any damage to the environment. Roof Maxx rejuvenates the worn-out shingles by immersing the lacking oils back into the asphalt. Each time Roof Maxx is applied, your roof gains another 5 years. You can apply Roof Maxx up to three times, for a total of 15 years of added life, and you'll save thousands in the process.
It All Adds Up
Roofingmakes up 10% of construction waste in landfills
And creates 13.5 million tons of waste annually
Good thingRoof Maxx will save you up to 80% over a roof replacement
And can extenda roof's life by 5 years with one application
Make that 15 years with applications every five years
Contact our roofing company in Sugar Land, TX
Here's how we operate:

We'll Assess Your Roof.
To really reap the benefits of Roof Maxx, it's best to have us apply it to a roof around six to eight years of age. Our Roof Maxx experts can come out and tell you if your roof is a good candidate for Roof Maxx.

We'll Apply Roof Maxx.
Our roofing company in Sugar Land, TX, can apply and dry Roof Maxx in three hours or less. Unlike a roof replacement, Roof Maxx does not require us to tear off all the old shingles, cutting down on the time and price.

Five Years. Guaranteed.
Now that Roof Maxx is rejuvenating and protecting your roof, you can enjoy all the money you just saved. Plus, you don't have to worry about your roof for the next five years.
Contact our roofing company in Sugar Land, TX, today, and save money and time with Roof Maxx.
How do I know if my roof is ready for Roof Maxx?
Asphalt shingles contain small, sand-like pebbles that stick together when shingles natural oils are intact. Once those oils start to dry out with age, you may see the granules flaking off in your gutters or downspouts. You might also notice black stains and streaks or shingles cracking, breaking, and curling. Since each roof is different, your local dealer will perform a free inspection to tell if Roof Maxx can help you.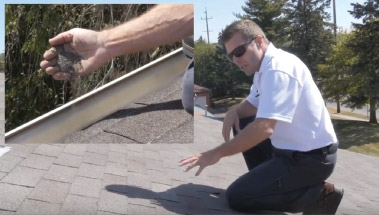 Roof Maxx is as easy as 1, 2, 3
Five Year Transferable Warranty
With our five-year, transferable warranty, you'll enjoy the peace of mind that your roof and entire home are protected.