About Roof Maxx of North Myrtle Beach, SC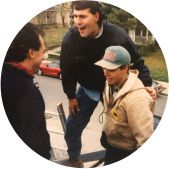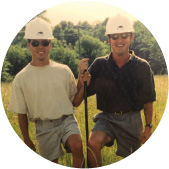 The story of Roof Maxx & affordable roofing in North Myrtle Beach, SC.
We're filling the need for quality roof rejuvenation.
After running a roofing business for 25 years, brothers Mike and Todd Feazel saw a need for quality roof rejuvenation and sold their business to fill it. They researched new technologies and eventually found incredible advancements in partnership with Battelle Laboratories. Roof Maxx was founded in 2013 and has been providing affordable roofing in places like North Myrtle Beach, SC ever since.
In recent years, asphalt shingles haven't been manufactured with as much asphalt due to increased expenses in the oil refinement process. This causes today's roofs to dry out faster and wear out sooner. Fortunately, Roof Maxx can fix that. One treatment of Roof Maxx can add five years of life to your roof. Get up to three treatments—one every five years—and enjoy up to 15 years of added life. Best of all, you'll save thousands of dollars in the process.
My brother and I could see the staggering number of roofs at risk across the country and wanted to do something about it. Now, through Roof Maxx, we're looking out for asphalt roofs, the people under them, their hard-earned money and the planet.

Mike Feazel
CEO, Roof Maxx
Our dealers are amazed at our product, and you will be too.
Our North Myrtle Beach team is thrilled to be working as the Roof Maxx dealer in the coastal areas of North and South Carolina that offers free, no-obligation estimates for the treatment of your home. We offer special discounts on our services to military, service personnel, and religious organizations. Contact us today to schedule a free estimate for Roof Maxx, the affordable roofing in North Myrtle Beach, SC.
Connect with Roof Maxx of North Myrtle Beach, SC
Roof Maxx is your affordable roofing resource in North Myrtle Beach, SC.
Five Year Transferable Warranty
With our five-year, transferable warranty, you'll enjoy the peace of mind that your roof and entire home are protected.