About Roof Maxx of Fort Mill, SC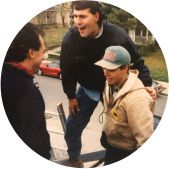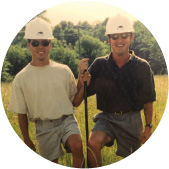 How Roof Maxx brought affordable roofing to Fort Mill, SC.
We bring decades of experience to local roofing.
Brothers Mike and Todd Feazel founded Roof Maxx after leading one of the most successful roofing businesses in the United States. In 2013, following 25 years in the roofing industry, they decided to take on the biggest problem they saw—asphalt roofs weren't lasting as long as they should. Roof replacement no longer seemed to be the best answer, so Mike and Todd started developing a roof rejuvenation alternative that would help save homeowners money.
The answer lies in asphalt shingles, which contain oils that allow them to expand and contract with changes in the weather. As shingles age, they lose these oils and dry out, leaving roofs prone to damage and in need of expensive repairs. Mike and Todd's journey led them to restore these natural oils that have made affordable roofing in Fort Mill, SC possible today.
My brother and I could see the staggering number of roofs at risk across the country and wanted to do something about it. Now, through Roof Maxx, we're looking out for asphalt roofs, the people under them, their hard-earned money and the planet.

Mike Feazel
CEO, Roof Maxx
Roof Maxx brings affordable roofing to Fort Mill, SC.
In 2013 the Feazel brothers began working with Battelle Laboratories to create Roof Maxx. Our roof rejuvenation treatment is a 100% natural, plant-based bio oil that is applied directly to an existing roof. Our patented formula works by restoring the natural oils in your shingles, reducing moisture penetration, slowing down granular loss, and improving flexibility. This new technology adds five years of life to your roof per treatment, at just 20% the cost of total roof replacement.
Our local dealers work with property owners to restore, preserve, and protect the asphalt roof you already own. As an authorized Roof Maxx dealer, we provide customers with a bio-based restorative treatment that is guaranteed to add five years to your roof's life per treatment, and up to 15 years with additional treatments. You save thousands of dollars on roofing, and you save the planet by keeping the shingles on your roof instead of in a landfill. We're green, we're clean, and we're ready to save you money. Call for a free estimate today and get affordable roofing in Fort Mill, SC.
Connect with Roof Maxx of Fort Mill, SC
Roof Maxx is your affordable roofing resource in Fort Mill, SC.
Five Year Transferable Warranty
With our five-year, transferable warranty, you'll enjoy the peace of mind that your roof and entire home are protected.