About Roof Maxx of Charlottesville, VA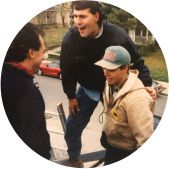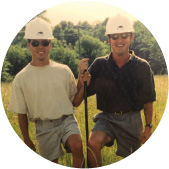 Learn about Roof Maxx affordable roofing in Charlottesville, VA
Developed by experienced roofers.
Roof Maxx was founded by brothers Mike and Todd Feazel, who started a roofing business in 1988 and grew it into one of the largest in the country over 25 years. They became experts in their field, watching and working as the industry changed. Over time they noticed that manufacturers were including less asphalt in their shingles, causing shingles to dry out more quickly.
Asphalt shingles need their natural oils to give them flexibility to expand and contract with changes in the weather. When this oil evaporates, they become stiff, brittle, and prone to breaking and damage. This means that roofs don't last as long as they used to. This problem led to the birth of Roof Maxx roof rejuvenation, and with it affordable roofing in places like Charlottesville, VA.
My brother and I could see the staggering number of roofs at risk across the country and wanted to do something about it. Now, through Roof Maxx, we're looking out for asphalt roofs, the people under them, their hard-earned money and the planet.

Mike Feazel
CEO, Roof Maxx
We're a sustainable solution to affordable roofing in Charlottesville, VA.
In 2013, Mike and Todd sold their roofing company and turned their focus to sustainable solutions for roof rejuvenation, hoping to find a way to make roofs last longer while protecting the planet. They researched technologies and teamed up with Battelle Laboratories to create Roof Maxx. This revolutionary treatment is 100% plant-based and restores natural oils to asphalt shingles, adding five years to the life of the roof with each treatment for up to 15 years total. You'll save 20% the cost of replacement with every treatment, which adds up to thousands of dollars saved.
Today, Roof Maxx is proud to offer this new affordable roofing option in Charlottesville, VA, while also keeping shingles out of landfills. It's good for your wallet and the environment. If you're looking for affordable roofing in Charlottesville, VA, call us today and we'll schedule a free estimate of your roof.
Connect with Roof Maxx of Charlottesville, VA
Roof Maxx is your affordable roofing resource in Charlottesville, VA.
Five Year Transferable Warranty
With our five-year, transferable warranty, you'll enjoy the peace of mind that your roof and entire home are protected.