About Roof Maxx of Ormond Beach, FL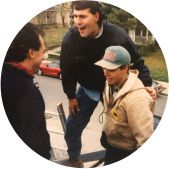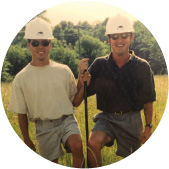 How Roof Maxx brought affordable roofing to Ormond Beach, FL.
Our years of experience helped us revolutionize roofing.
Over the span of 25 years, the founders of Roof Maxx, brothers Mike and Todd Feazel, built one of the largest and most successful roofing companies in the United States. During this time, they learned just about everything about the roofing industry. One thing they noticed was how materials and quality in roofing was changing. As a result, asphalt roofs just weren't lasting as long as they used to.
The shingles of an asphalt roof contain oil that they need to remain flexible enough to expand and contract with changes in the weather. As they age, this oil dries up, and the shingles become brittle and unable to protect your home. In fact, asphalt shingles have been known to show signs of breaking down within 6-8 years. When a roof replacement can cost upwards of $8,000 for a 1,500 square foot home, that adds up to a huge expense over the years. Our founders knew there had to be a better solution to affordable roofing in Ormond Beach, FL and the rest of the USA.
My brother and I could see the staggering number of roofs at risk across the country and wanted to do something about it. Now, through Roof Maxx, we're looking out for asphalt roofs, the people under them, their hard-earned money and the planet.

Mike Feazel
CEO, Roof Maxx
Now you can get affordable roofing in Ormond Beach, FL.
In 2013, Mike and Todd decided to solve this major challenge in the roofing industry by focusing on sustainable roof rejuvenation. They worked with the largest private research and development company, Battelle Laboratories, to develop a new technology: Roof Maxx.
Our local Roof Maxx dealers serve the Central Florida community. One application of Roof Maxx will add five years of life to your existing roof and can be applied up to three times for a total of 15 years. Best of all, an application of Roof Maxx costs just 20% of roof replacement. You save a lot of money, and you also help save the planet by keeping your shingles out of the landfill. If you're looking for affordable roofing in Ormond Beach, FL, connect with us today and we'll set up a free estimate of your roof.
Connect with Roof Maxx of Ormond Beach, FL
Roof Maxx is your affordable roofing resource in Ormond Beach, FL.
Five Year Transferable Warranty
With our five-year, transferable warranty, you'll enjoy the peace of mind that your roof and entire home are protected.