About Roof Maxx of Naples, FL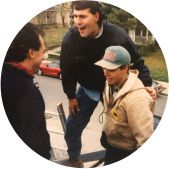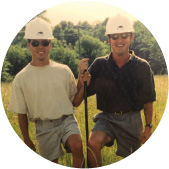 All about Roof Maxx affordable roofing in Naples, FL
We're here to save you money on roofing.
Our founders Mike and Todd Feazel know the roofing industry inside-out. During their 30 years as roofing contractors, they observed that asphalt shingle manufacturers began including less asphalt due to rising costs, significantly shortening their lifespan. As shingles age, they lose the oils needed to withstand Florida sun, heat, humidity, and storms. Replacing an asphalt roof can cost thousands of dollars. Many homeowners don't realize that their aging asphalt roofs can be saved and an expensive and premature replacement avoided.
Developed with help from Battelle Laboratories, Roof Maxx provides roof rejuvenation with our innovative product that makes affordable roofing in Naples, FL possible. Here's why we love our Roof Maxx treatment: After just one application, it restores a roof's natural flexibility and extends its life by five years, all at a fraction of the cost of replacement.
My brother and I could see the staggering number of roofs at risk across the country and wanted to do something about it. Now, through Roof Maxx, we're looking out for asphalt roofs, the people under them, their hard-earned money and the planet.

Mike Feazel
CEO, Roof Maxx
Our focus is on sustainable, affordable roofing in Naples, FL.
Roof Maxx's affordable roofing treatment is 100% plant-based and sustainable. It soaks asphalt shingles in natural bio-oil and makes them like-new again, with the strength and flexibility to withstand the elements. Roof Maxx can be applied once every five years up to three times, extending the life of a roof up to 15 years. Roof Maxx is also helping protect our environment by keeping waste out of landfills.
Your local Roof Maxx dealer is dedicated to providing affordable roofing in Naples, FL. We are a family business and we have served residents in the Fort Myers area for 15 years. Our focus is on providing a 5-star service experience for our customers and saving homeowners up to 80% on their roofing costs. Contact us for a free estimate today and start saving thousands of dollars.
Connect with Roof Maxx of Naples, FL
Roof Maxx is your affordable roofing resource in Naples, FL.
Five Year Transferable Warranty
With our five-year, transferable warranty, you'll enjoy the peace of mind that your roof and entire home are protected.