About Roof Maxx of Platteville, WI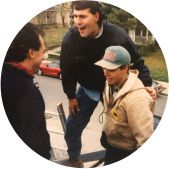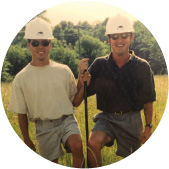 See how Roof Maxx brought affordable roofing to Platteville, WI
We've been leaders in the industry for decades.
Before brothers Todd and Mike Feazel started Roof Maxx, they founded and operated one of the country's most successful roofing companies. For over two decades, they worked at the forefront of the industry and saw how things were starting to change for the worse. Asphalt roofing wasn't lasting as long as it should, which made affordable roofing in Platteville, WI, harder to come by.
The issue lies in the shingles. Asphalt shingles contain oil that enables them to expand and contract with changes in weather conditions. When you have dry, freezing winters followed by warm, wet summers like we do in Platteville, you need a roof that can keep up with those extremes. Unfortunately, manufacturing changes have left asphalt shingles with less oil than ever before. This has forced homeowners and businesses to pay for more frequent and expensive roof replacements. Until now.
My brother and I could see the staggering number of roofs at risk across the country and wanted to do something about it. Now, through Roof Maxx, we're looking out for asphalt roofs, the people under them, their hard-earned money and the planet.

Mike Feazel
CEO, Roof Maxx
Now affordable roofing in Platteville, WI, is a reality.
In 2013, Mike and Todd decided to take on the biggest challenge in roofing: affordability. They sold their company and focused their attention on finding a way to make asphalt roofing last longer. With the help of Battelle Laboratories, that work paid off with the discovery of Roof Maxx.
Now roof rejuvenation from Roof Maxx can boost your roof's life by five years with one easy treatment. The best part? A single application of Roof Maxx costs just 20% of what a roof replacement would run. This makes affordable roofing in Platteville, WI, available to homeowners and businesses alike. Instead of shelling out $10,000 for replacement, pay just $1,500 and pocket the rest. Find out how much you can save when you schedule a free estimate.
Contact your local Roof Maxx of Platteville, WI
Roof Maxx is your local source for affordable roofing in Platteville, WI.
Five Year Transferable Warranty
With our five-year, transferable warranty, you'll enjoy the peace of mind that your roof and entire home are protected.