About Roof Maxx of Green Bay, WI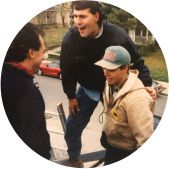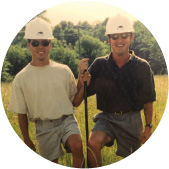 We're your solution for affordable roofing in Green Bay, WI
We bring 25 years of roofing experience to Roof Maxx.
Roof Maxx founders Mike and Todd Feazel spent 25 years building their roofing company and learning all they could about the industry. One of the things they noticed over the years was that quality materials were getting more expensive and harder to find. Changes in the ways that oil is refined reduced how much asphalt went into shingles. As a result, asphalt roofs weren't lasting as long as they did before.
Asphalt shingles need the oils inside them to expand and contract with changes in the weather and seasons. As shingles dry up over time, they become brittle, break down, and no longer provide the protection the structure needs. This means roofs have to be replaced more often and at greater expense. The Feazel brothers decided to do something about this growing issue, so they created a sustainable solution. Today, Roof Maxx offers affordable roofing in towns like Green Bay, WI by making roofs last longer.
My brother and I could see the staggering number of roofs at risk across the country and wanted to do something about it. Now, through Roof Maxx, we're looking out for asphalt roofs, the people under them, their hard-earned money and the planet.

Mike Feazel
CEO, Roof Maxx
Now you have a local option for affordable roofing in Green Bay, WI.
Our climate in Green Bay offers some of the stiffest challenges for roofs. Thanks to the Feazel brothers, Roof Maxx was developed as a roof rejuvenation process that restores the oils back into asphalt shingles. One treatment of Roof Maxx adds five years of life to your current roof. With the option of up to three treatments, we can add up to 15 years to your current roof. And you pay just 20% of the cost of an expensive roof replacement per treatment.
Your local Roof Maxx owner, Curtis Lindstrom, is proud to offer a sustainable way to make roofs in Green Bay last longer. Contact us to find out what Roof Maxx can do for you and how much you could save on roofing costs. Schedule a free estimate and get affordable roofing in Green Bay, WI today.
Connect with Roof Maxx of Green Bay, WI
Roof Maxx is your local source for affordable roofing in Green Bay, WI.
Five Year Transferable Warranty
With our five-year, transferable warranty, you'll enjoy the peace of mind that your roof and entire home are protected.