About Roof Maxx of Appleton, WI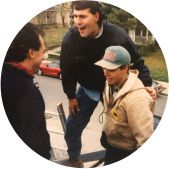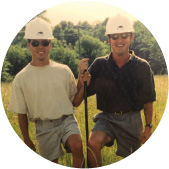 The story of affordable roofing in Appleton, WI with Roof Maxx.
We don't just talk the talk, we walk the walk as roofers.
The story of Roof Maxx began in 1988, when our founders, Mike and Todd Feazel, started their roofing business and built it into one of the most successful in the U.S. They became experts in all things roofing, like roof rejuvenation Over the years they observed how the industry evolved, including the way asphalt shingles are made.
Because of changes in oil refining that increased costs, manufacturers began making shingles with less and less asphalt. As a result, shingles had less natural oil, and asphalt roofs weren't lasting as long. With homeowners looking at more frequent roof repair or replacement, quality affordable roofing in towns like Appleton, WI and the rest of the United States has become harder to obtain.
My brother and I could see the staggering number of roofs at risk across the country and wanted to do something about it. Now, through Roof Maxx, we're looking out for asphalt roofs, the people under them, their hard-earned money and the planet.

Mike Feazel
CEO, Roof Maxx
Now you can find affordable roofing in Appleton, WI that saves you thousands.
We've all heard the phrase "...because that's the way we've always done it." Mike and Todd knew they had to look beyond how things had always been done for a better way. In 2013, they sold their company to focus on researching roof rejuvenation, and it wasn't long before Roof Maxx was born. With the help of Battelle Labs, they developed an innovative, 100% natural, plant-based formula that replenishes the natural oils in asphalt shingles and extends the life of a roof by five years per Roof Maxx treatment. Each treatment costs about 20% of a roof replacement, which adds up to thousands of dollars in savings.
Did you know the average home re-roofing project generates one to three tons of shingles? Eleven million tons of shingles per year end up in a landfill and remain there for 300 years. We've brought the 100% safe Roof Maxx product to the Fox Cities in order to provide our neighbors with a sustainable alternative to their roofing needs. Our goal is to save you money while keeping shingles out of landfills. Schedule a free estimate today to get started.
Connect with Roof Maxx of Appleton, WI
Roof Maxx is your affordable roofing resource in Appleton, WI.
Five Year Transferable Warranty
With our five-year, transferable warranty, you'll enjoy the peace of mind that your roof and entire home are protected.