Roof Maxx of Kennewick, WA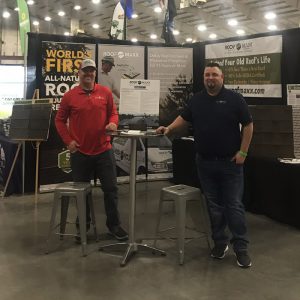 Jeremy Dimond & Pete Kelley
Roof Maxx of Kennewick WA
(509) 845-0818
---
jeremy@roofmaxx.com
233 W 52nd Ave
Kennewick, WA 99337
Save money by choosing Roof Maxx for your roofing company in Kennewick, WA.
Hot, sunny days can put a lot of wear and tear on an asphalt roof, and hot weather is something we experience in abundance in the arid Kennewick climate. With our weather, asphalt shingles are more likely to dry out quickly, which can make your roof brittle, more prone to damage, and less waterproof. That leads to pricey roof replacements—unless you choose to save thousands of dollars by turning to Roof Maxx as your roofing company in Kennewick, WA.
There's a better way to deal with dry, worn shingles.
In the past, the only two options you had as a homeowner when your roof became old was to either repair or replace. At Roof Maxx, we are now offering a third alternative: roof restoration. We've developed a rejuvenating process that can bring back the original strength and luster of your roof—and at a fraction of the price of a roof replacement, as well.
Save money, save the environment, and save your roof.
Not only is this process effective, but it is also quick and affordable. In addition, our roof treatments are a 100% all-natural, plant-based product, meaning it is safe for your family and loved ones. There is no other product on the market like Roof Maxx, and we're eager to show you what we can do for you. If you are ready for a roofing company in the Kennewick, WA area that will save money on your roof, contact us today.
Don't wait to contact our roofing company in Kennewick, WA.
How we like to operate:

We'll Assess Your Roof.
If your roof looks ready for Roof Maxx, we'll set up a time to come back to apply it. If we find any leaks or other major problems, we'll let you know what's going on so you can choose how to deal with it.

We'll Apply Roof Maxx.
Your appointment will probably last less than two hours. First, we give your roof a tune-up. Next, we apply our all-natural oil. Finally, we'll wish you a great day.

Five Years. Guaranteed.
We guarantee five years of flexibility per treatment, and you can order up to three treatments. The warranty can be transferred, if you move within the five years.
Roof Maxx is your trusted roof rejuvenation company in Kennewick, WA.