About Roof Maxx of Beaverton, OR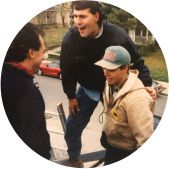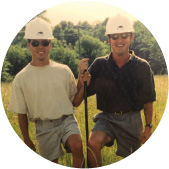 How Roof Maxx affordable roofing in North Beaverton, OR began.
Capitalizing on 30 years of experience in the roofing industry.
Our founders, brothers Mike and Todd Feazel, spent 30 years in the roofing industry, growing their own roofing company that they started in 1988. During that time, they gained extensive knowledge about asphalt shingles and saw several changes in the roofing industry, including differences in how asphalt shingles were being made.
Changes in oil refining decreased the amount of available asphalt and significantly increased cost. Because of this, manufacturers were forced to include less asphalt in shingles, which drastically reduced their lifespan. Home and business owners were now faced with very few options for quality affordable roofing in places like North Beaverton, OR and elsewhere. It was then that our founders turned their attention to affordable, sustainable roofing that could save their customers thousands of dollars.
My brother and I could see the staggering number of roofs at risk across the country and wanted to do something about it. Now, through Roof Maxx, we're looking out for asphalt roofs, the people under them, their hard-earned money and the planet.

Mike Feazel
CEO, Roof Maxx
Committed to preservation, not replacement.
After selling their roofing company, Mike and Todd began researching ways to affordably extend the lifespan of a roof rather than replace it. Working with Battelle Laboratories and capitalizing on incredible new technology, they discovered that replacing the important oil in asphalt shingles restored their flexibility and durability. Roof Maxx was born. Today, our roof rejuvenation product is extending the lifespan of asphalt roofs by five years with a single application. Regular treatments every five years adds a total of up to 15 years of life, postponing the need for costly roof replacement at just a fraction of the cost.
Roof Maxx is proud serve North Beaverton, OR. We specialize in getting their customers the most out of their roofs, saving hassle, money, and waste that can go into landfills. If you're looking for affordable roofing options in North Beaverton, OR, contact us today for a free estimate for your roof.
Connect with Roof Maxx of North Beaverton, OR.
Roof Maxx is the best choice for affordable roofing in North Beaverton, OR.
Five Year Transferable Warranty
With our five-year, transferable warranty, you'll enjoy the peace of mind that your roof and entire home are protected.