Roof Maxx Dealers in North Dakota
Roof Maxx Roofing Repair Companies in North Dakota
North Dakota winters are tough on roof shingles.
One of the biggest causes of roof damage in North Dakota is the brutal winters. While the state experiences moderately warm summers, winters are especially harsh. Temperatures frequently fall below freezing, heavy snowfall is common, and high winds can create even colder temperatures or cover homes with snowdrift. Each of these winter phenomena is tough on your roof.
North Dakota sees around 50 inches of snow every year. Heavy snowstorms cause snow and ice to pile up on your roof, which can get extremely heavy very quickly. If allowed to build up, your roof may not be able to take the weight and may collapse. Additionally, as snow and ice melt, the snowmelt can easily leak into your home through existing leaks, causing water damage and increasing mold growth in your attic. While you can remove snow yourself, you can cause further damage to your shingles through scraping, denting, or premature wear and tear.
Finally, freezing temperatures are a common cause for needing roof restoration in North Dakota. Temperatures fluctuate widely in North Dakota, which can cause water to expand and contract. This expansion and contraction can expand cracks and leaks and damage shingle seals. If you roof is starting to show any of these signs of aging, Roof Maxx is here to assist you.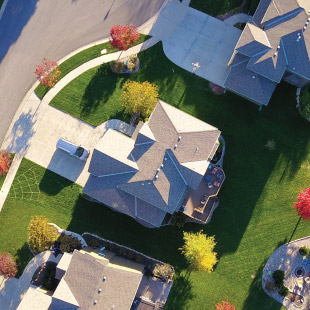 Roof Maxx roof rejuvenation in North Dakota
Because the winters are so severe, many residents need extensive roof repair. However, roof repair in North Dakota comes at a steep price. If the damage is serious enough, your bill can reach thousands of dollars very quickly. Plus, if you need to replace your roof completely, asphalt shingle installation costs could hover around $20,000 or more in North Dakota.
To help you avoid these expenses, Roof Maxx created a 100% natural, plant-based formula that will extend the life of your roof by up to 5 years per treatment. Roof Maxx will restore the essential oil found in asphalt shingles that provide them with the flexibility and durability that they need to withstand North Dakota's winters. Plus, our process is designed to save you money while increasing the lifespan of your roof. Contact a Roof Maxx dealer to learn how you can save thousands of dollars with roof rejuvenation.
Five Year Transferable Warranty
With our five-year, transferable warranty, you'll enjoy the peace of mind that your roof and entire home are protected.