About Roof Maxx of Chapel Hill, NC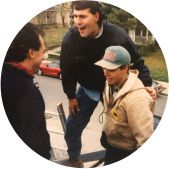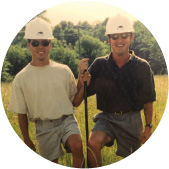 The story of Roof Maxx affordable roofing in Chapel Hill, NC
Roofing is our bread and butter.
Brothers Mike and Todd Feazel started their roofing company in 1988. This was their time to learn the ins and outs of the business, soaking up everything they could about roofing as they grew one of the most successful companies in the country. They saw the roofing industry change in many ways over those 25 years, particularly in the way that asphalt shingles are made.
The cost of asphalt shot up over time as changes in oil refining limited asphalt availability. This led to less quality affordable roofing in cities like Chapel Hill, NC and all over the country, since shingles had less of the natural oils needed to keep them flexible and able to withstand strong winds, rain, and temperature changes.
My brother and I could see the staggering number of roofs at risk across the country and wanted to do something about it. Now, through Roof Maxx, we're looking out for asphalt roofs, the people under them, their hard-earned money and the planet.

Mike Feazel
CEO, Roof Maxx
Now we provide the most affordable roofing in Chapel Hill, NC.
Mike and Todd sold their first roofing company in 2013, with a mission to put all of their energy into roof rejuvenation and sustainability. They learned everything they could about how they could lengthen the life of asphalt shingles. They knew they had found something special when they came across Battelle Laboratories, the world's largest private research and development company. Soon after that, Roof Maxx was born.
Today you can extend the life of your asphalt roof by five years per treatment. All it takes is one application of Roof Maxx. And since you can repeat the process up to three times, that means you can add 15 years to your roof in total. Roof Maxx is proud to offer the most sustainable, affordable roofing in Chapel Hill, NC, saving you money and promoting a greener future for everyone. Schedule a free estimate from our team today.
Connect with Roof Maxx of Chapel Hill, NC
Roof Maxx is your source for affordable roofing in Chapel Hill, NC.
Five Year Transferable Warranty
With our five-year, transferable warranty, you'll enjoy the peace of mind that your roof and entire home are protected.