About Roof Maxx of Gulfport, MS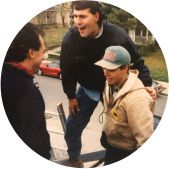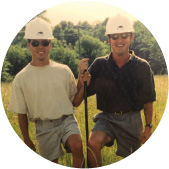 How Roof Maxx brought affordable roofing to Gulfport, MS.
Not your average roofing company.
When Mike and Todd Feazel began their career in the roofing industry, they ran a successful, traditional roofing company. However, after about 25 years of growing and acquiring abundant knowledge about shingle manufacturing, and roof repair and replacement, they changed direction. Asphalt became a more expensive resource, shingle production suffered, and there was less affordable roofing in Gulfport, MS. Manufacturers began using smaller amounts of asphalt during production, resulting in a product with a shorter lifespan.
The Feazel brothers dedicated themselves to solving this problem and revolutionized the roofing industry with a process called "roof rejuvenation." With help from Battelle Labs, they found a way to restore the natural oils that shingles lose as they age. This meant they could revitalize dry and cracking shingles and return the strength and flexibility needed to properly protect your roof from harsh weather—at a fraction of the cost of a roof replacement.
My brother and I could see the staggering number of roofs at risk across the country and wanted to do something about it. Now, through Roof Maxx, we're looking out for asphalt roofs, the people under them, their hard-earned money and the planet.

Mike Feazel
CEO, Roof Maxx
Sustainable and affordable roofing in Gulfport, MS.
Roof Maxx roof rejuvenation uses an all-natural product that treats asphalt shingles in the same way lotion heals dry skin. It restores moisture and enables your roof to last five years longer before it needs to be replaced. In fact, with three treatments, five years apart, you can add 15 years to the life of your roof and save thousands of dollars compared to a roof replacement. 
Roof rejuvenation protects your home, is good for the planet, and doesn't hurt your wallet. Our USDA certified product is safe for pets and people, and can be applied with no mess or disruptive noise. There is no need to rip shingles from your roof or risk dropping nails on your lawn. We provide affordable roofing in Gulfport, MS that will keep your roof stronger and make it last longer, reducing the amount of construction waste in the process.
Connect with Roof Maxx of Gulfport, MS.
Connect with Roof Maxx for affordable roofing in Gulfport, MS.
Five Year Transferable Warranty
With our five-year, transferable warranty, you'll enjoy the peace of mind that your roof and entire home are protected.