About Roof Maxx of Cedar Rapids, IA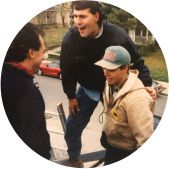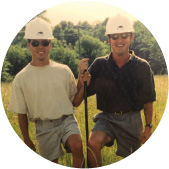 The history of Roof Maxx, your choice for affordable roofing in Cedar Rapids, IA.
We know the roofing industry.
The brothers who founded Roof Maxx, Mike and Todd Feazel, ran a successful roofing business for 25 years while gaining experience, skill, and knowledge of the industry. They witnessed changes in production that lowered the amount of asphalt used when making shingles. Unfortunately, this change caused the shingles to dry out more quickly, presenting a new challenge.
With less affordable roofing in Cedar Rapids, IA, and shingles that weren't holding up as long as before, the Feazel brothers knew a change needed to be made. Since the asphalt used in manufacturing contains a natural oil that gives the shingles their flexibility, maybe there was a way to restore this oil once it evaporated. They quickly went to work on finding a sustainable and affordable solution.
My brother and I could see the staggering number of roofs at risk across the country and wanted to do something about it. Now, through Roof Maxx, we're looking out for asphalt roofs, the people under them, their hard-earned money and the planet.

Mike Feazel
CEO, Roof Maxx
Sustainable, affordable roofing in Cedar Rapids, IA.
In 2013, Mike and Todd Feazel focused their efforts on roof rejuvenation that would restore lost moisture to dried-out shingles and extend their life. They partnered with Battelle Laboratories, a world-renowned company focused on research and development, to create an all-natural bio-oil that was affordable and easy to use.
Now, Roof Maxx can treat your roof with this completely safe, food-grade product and add five years to the life of your asphalt roof. Not only does this process reduce the number of shingles that end up in local landfills, but it can save you thousands when compared with the price of a new roof. Plus, if applied three times—once every five years—you can add 15 years to your roof, saving you even more.
Connect with Roof Maxx of Cedar Rapids, IA
Roof Maxx is fast, friendly, and honest. We proudly provide affordable roofing in Cedar Rapids, IA.
Five Year Transferable Warranty
With our five-year, transferable warranty, you'll enjoy the peace of mind that your roof and entire home are protected.