About Roof Maxx of Evansville, IN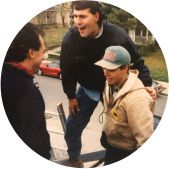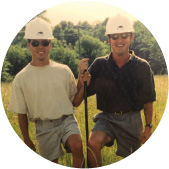 Roof Maxx is the number one choice for affordable roofing in Evansville, IN. 
The beginning of Roof Maxx in Evansville, IN.
Our founders, brothers Mike and Todd Feazel, spent 25 years in the roofing industry operating one of the largest roofing companies in the nation. A change in the way asphalt shingles were manufactured prompted the brothers to sell their company and turn their attention to sustainable roofing. Specifically, they wanted to find a way to extend the lifespan of asphalt roofs that were now drying and failing faster than ever.
In 2013, they partnered with Battelle Laboratories to create a state-of-the-art roof rejuvenation treatment that could restore aging shingles to like-new condition. They found that by replenishing the lost oil with natural plant-based oil, shingles regained their original durability and flexibility. With the creation of Roof Maxx, affordable roofing in places like Evansville, IN was more available than ever.
My brother and I could see the staggering number of roofs at risk across the country and wanted to do something about it. Now, through Roof Maxx, we're looking out for asphalt roofs, the people under them, their hard-earned money and the planet.

Mike Feazel
CEO, Roof Maxx
Now we're proud to bring affordable roofing to Evansville, IN.
At Roof Maxx, we're not only committed to saving you money by providing affordable roofing in Evansville, IN, but we're also committed to helping the environment. Rather than replace old shingles—an expensive and time-consuming process—we use our roof rejuvenation product to preserve your existing roof. As a result, every roof treated with Roof Maxx is helping to reduce the number of asphalt shingles found in landfills.
Our process is fast, easy, and incredibly affordable. A single treatment of Roof Maxx costs a fraction of roof replacement projects. Additionally, our product can add five years of life to your shingles, and up to 15 years with regular treatments. By extending the lifespan of your roofing system, you postpone the need for costly roof replacement. If you're ready to save money on roofing, contact a local Roof Maxx dealer for a free estimate today.
Contact Roof Maxx of Evansville, IN
Roof Maxx is your affordable roofing resource in Evansville, IN.  
Five Year Transferable Warranty
With our five-year, transferable warranty, you'll enjoy the peace of mind that your roof and entire home are protected.