About Roof Maxx of Hartford, CT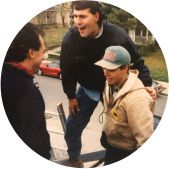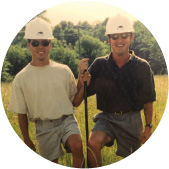 The story of Roof Maxx affordable roofing in Hartford, CT
We've walked the walk as roofers.
Our founders, brothers Mike and Todd Feazel, started a roofing business in 1988 and spent the next 25 years building it into one of the largest and most successful in the United States. As you can imagine, they learned just about everything there is to know about roofing and roof restoration during that time. They also watched the industry grow and change, including the way asphalt shingles are manufactured.
Changes in oil refining started to reduce the amount of asphalt available, causing costs to skyrocket and shingle manufacturers to include less asphalt. That meant less affordable roofing in Hartford, CT, and less of the natural oils that give shingles the flexibility to withstand the elements over time. Today, this all means asphalt roofs don't last as long as they used to. (Search the web for "class-action roofing lawsuits" to get a sense of how bad it's gotten out there.)
My brother and I could see the staggering number of roofs at risk across the country and wanted to do something about it. Now, through Roof Maxx, we're looking out for asphalt roofs, the people under them, their hard-earned money and the planet.

Mike Feazel
CEO, Roof Maxx
Now we're proud to offer affordable roofing in Hartford, CT
Mike and Todd sold their roofing company in 2013 to focus on roof rejuvenation and sustainability. They researched new technologies that could extend the life of a roof and help prevent the need to prematurely replace it. In the process, they came across some incredible new advancements from the world's largest private research and development company, Battelle Laboratories. It wasn't long before Roof Maxx was born.
Today, you can add five years of life to your asphalt roof with just one application of Roof Maxx, and 15 years with applications every five years. Roof Maxx is creating a revolution in affordable roofing in Hartford, CT, keeping shingles out of landfills and creating a greener future for all of us.
Connect with Roof Maxx of Hartford, CT
Roof Maxx is your affordable roofing resource in Hartford, CT.
Five Year Transferable Warranty
With our five-year, transferable warranty, you'll enjoy the peace of mind that your roof and entire home are protected.