About Roof Maxx of Libertyville, IL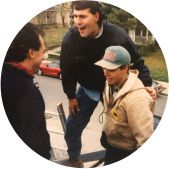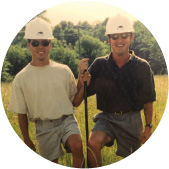 The story of Roof Maxx affordable roofing in Libertyville, IL.
Roof Maxx started with boots on the roof.
Mike and Todd Feazel, brothers and businessmen, started their roofing company in 1988. Over the next 25 years, they worked diligently to build their company into one of the largest and most successful roofing businesses in the nation. As the years passed and their business progressed, so did their knowledge of the roofing industry. They watched its evolution, and part of the change they observed was in the way shingles are manufactured.
Asphalt comes from the oil refining industry. Changes in oil refining resulted in less asphalt production. Supply and demand resulted in increased costs for asphalt, therefore increased costs for shingles. To keep shingles affordable, manufacturers started using more filler. Less asphalt plus more filler equals shingles failing faster than before. Mike and Todd were determined to find a solution to providing quality affordable roofing in places like Libertyville, IL.
My brother and I could see the staggering number of roofs at risk across the country and wanted to do something about it. Now, through Roof Maxx, we're looking out for asphalt roofs, the people under them, their hard-earned money and the planet.

Mike Feazel
CEO, Roof Maxx
Roof Maxx is proud to offer affordable roofing in Libertyville, IL.
The brothers sold their roofing company in 2013 in order to dedicate themselves to finding a safe and sustainable solution to the problem of early shingle deterioration. Their idea was roof rejuvenation rather than roof replacement. Working with Battelle Laboratories, the largest private research and development company, they discovered amazing advancements in the world of bio-oils.
Thanks to this partnership and the dedication of the Feazel brothers, today you can add five years of life to your roof with just one application of Roof Maxx, and up to 15 years with a subsequent treatment every five years. This revolutionary product has created affordable roofing in Libertyville, IL. And by keeping roof replacement waste out of landfills, it is also contributing to a greener tomorrow.
Connect with Roof Maxx of Libertyville, IL.
Roof Maxx is your affordable roofing resource in Libertyville, IL.