How Long Can a Roof Go Without Shingles?
September 24, 2021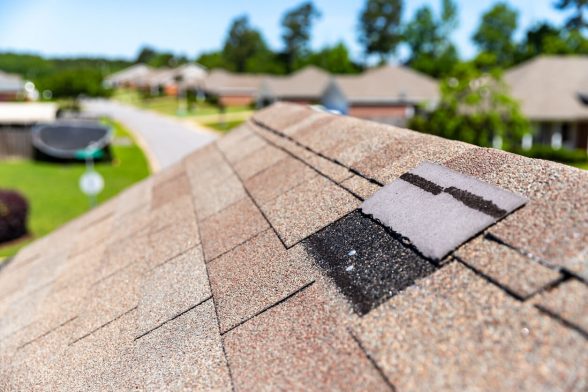 Even the best and newest roofs can sustain wear. Catastrophic winds could roll in and dislodge shingles or even simply years of wear and tear. Older roofs are even more susceptible to damage, so having your roof inspected regularly is important.
If you discover damage to your roof and find that it's missing shingles, what do you do next? How long can a roof go without shingles? That depends on many factors, but the short answer is not very long.
While one or two missing shingles might not seem like a big problem when most of your roof is still intact, it can actually lead to serious problems. Think of your roof as a suit of armor for your home. One hole or chink in that armor can leave you vulnerable.
Missing or damaged shingles can allow water to seep into your roof. How long a roof can go without shingles depends partially on the location of the missing shingles or damaged area. This is especially the case if the area is in a particularly sensitive part of your roof. This can include:
Missing shingles that expose seams between other shingles
A hole in a low point where water can collect or where the structure below will be exposed
In these situations, you don't have much time to lose.
Signs Your Roof Needs to Get Fixed
Clearly, missing shingles is just one of the signs that your roof needs repair. Other signs include:
The appearance of water damage like discoloration on your ceiling
Missing granules on your roof or shingle debris in your gutters
Broken or curling shingles
If you notice these signs, you should contact a roofer immediately.
Get Your Roof Fixed Right Away
The best thing you can do when you discover missing shingles on your roof is to get it fixed immediately. The hole in your roofing can allow water to enter. This can lead to the buildup of mold and can even deteriorate the structure beneath. That one little hole can lead to major damage that could cost you a lot.
Experienced roofers will repair the area thoroughly. They can also take a look at the rest of the roof to make sure it's in good shape. Their expert knowledge can help you avoid further damage.
Rejuvenate Your Shingles
Fortunately, there is something you can do to prevent roof deterioration. You can rejuvenate your asphalt shingles, so they last longer and stay strong. Roof Maxx is an all-natural product that instantly adds five years of life to your roof. It restores the natural oils to your shingles, so they stay strong and flexible like new.

Contact your local Roof Maxx to find out what Roof Maxx can do for you. One application of Roof Maxx costs just 15-20% of the cost of roof replacement. We can apply it every five years for up to three applications, adding 15 years to the life of your roof. Contact us today.