How to Finance a New Roof
June 22, 2021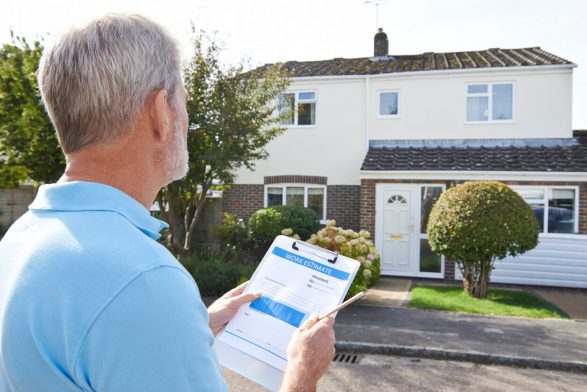 According to Home Advisor, most residential roof replacement projects cost as little as $5,500 and as much as $11,000. For most home and business owners, this type of money is not something that's easily accessible.
However, if a building's roof has started to show significant signs of wear and tear, what choice do you have? Well, Roof Maxx can save you thousands of dollars by rejuvenating your roof instead of paying for a full replacement, so you do have other options. We'll cover that in more detail below.
But there are also a number of more traditional financing options for roof replacement to help shoulder the cost. Below, we'll review how to finance a new roof. We can't promise it won't break the bank—roof replacements are really expensive—but it should make the concept more feasible.
Insurance
Depending on your insurance plan, you may be able to get your home insurance provider to cover the cost of a new roof. However, most carriers will not pay for a new roof unless it was damaged due to an act of nature (thunderstorms, hurricanes, tornadoes, etc.) or a sudden accident. Older roofs without damage are typically not eligible for insurance coverage.
Carefully review your current home insurance to determine if your plan includes roof damage and the amount of coverage. You may need to contact the company directly if you're unsure.
For most property owners, insurance is the least expensive option for roof replacement—if your insurance provider covers some of the cost. If your roof has been damaged, either accidentally or from a storm, get in touch with your insurance carrier to get an idea of how much you'll have to pay for a new roof.
Roofing Company Payment Plan
Most home and business owners prefer not to use cash to pay for the cost of roof replacement. As a result, many roofing contractors now offer financing directly or through a trusted third-party vendor.
Typically, contractors offer a payment structure that allows customers to pay off the cost of a new roof over a certain period of time, rather than all at once. The time period will vary depending on the contractor and how much you can afford to pay each month. Most companies will charge interest, so it's recommended to stay on top of payments.
Should you decide to utilize a roofing contractor's payment options, take the time to research a few different ones. Pay special attention to the monthly payment, interest rate, and whether financing is done in-house or through a third-party vendor. This will help you make a more informed decision.
Loans
There are a number of loan options available that can help you cover the cost of a new roof, including:
Personal loans
Home equity loans
Government-funded home improvement loans
FHA Title 1 loans
A bank or a third-party lender will take a close look into your financial background to ensure you can make the required monthly payments prior to giving you the loan. Additionally, you will be charged interest for the duration of the loan.
While loans do cover the cost of roof replacement, this is actually the least preferred way to finance a new roof. Loans can end up costing you more in the long run—especially if you opt for a longer payback period. For example, if the cost to replace your roof is $10,000, you may end up paying closer to $12,000 with the added interest rate.
At Roof Maxx, we think roof replacements are already expensive enough as it is, without tacking on interest too.
Get Your Roof Rejuvenated Instead
Most roof replacement projects are done prematurely, with many property owners replacing roofs at the first signs of aging. Not only is this an expensive project, but it's also environmentally harmful.
Roof Maxx ensures you avoid premature roof replacement by getting the most from your existing roof. Our product works by penetrating deep into shingles to restore the oil that keeps them flexible and durable. Once applied, shingles are like new again and are more effective at repelling common weather elements like:
Rain
Wind
Hail
Snow
UV radiation
Five Years—Guaranteed
Here's the best part about Roof Maxx: Our product adds five years of life to shingles in a single application and up to fifteen years with regular treatments. This means you can postpone the need for roof replacement and save more of your hard-earned money.
Plus, Roof Maxx is very environmentally friendly—one use of our natural plant-based product saves 3.8 tons of construction waste from landfills.

If your roof is currently showing signs of aging and you're looking for the best ways to finance a new roof, contact us. You can also visit our FAQ page to learn more about our services, prices, and process.
Don't forget to visit our testimonials page to see what previous customers have to say about this revolutionary roof treatment.