What Should a Roofing Estimate Look Like?
June 23, 2021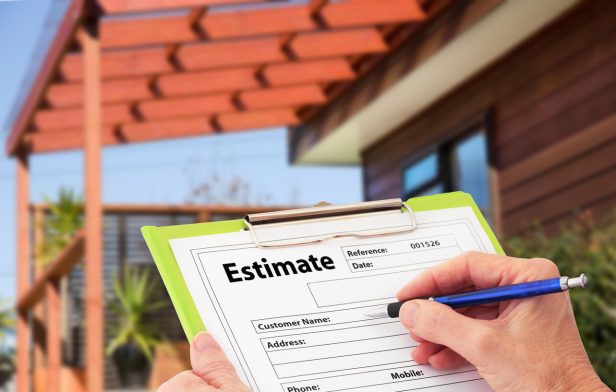 Replacing your roof is one of the biggest maintenance costs you can have for your home or business. The size of the project and the cost can be intimidating and can lead to misunderstandings, especially during the estimate process. What should a roofing estimate look like?
Most homeowners don't have a lot of experience replacing the roof of their home. You might not know what to look for or how to avoid being overcharged. Understanding your estimate is crucial so you can make the best decisions.
Roofing estimates must be specific and include everything that is needed or required. You deserve a line item list showing the number of roof layers to be removed, details about how your property will be protected during this process, etc.
To make sure you get the quality service and end result you are looking for, make sure you understand the estimate and get quality answers to your questions. It should contain all of the following elements.
Roofing Company Information
A roofing estimate should contain all the necessary information about the roofing company itself. This includes the contact information for the company and the name of the person you need to speak with. You meet the point person in charge of your project. What is their contact information?
You'll also want proof of licensure and insurance. Take the time to verify a contractor's license. Look up your state's licensing agency and check your contractor's number to ensure they are legitimate and bonded. This helps protect you from fraud, damages, or an incomplete job.
Some background on the company is also helpful. Details like how long they have been in business and where you can find customer reviews show that the company has nothing to hide.
Payment Information
Information regarding payment is one of the most important elements of what a roofing estimate should look like. This should include how payment can be made and how installments or payment plans can be structured. Be sure to understand how much you're responsible for and when payments are due. All questions should be asked ahead of time, so there are no misunderstandings.
Cost Breakdown by Item
This is, of course, the primary information you are looking for in a roofing estimate. How much is it going to cost? This should include of every aspect of the roofing work, from materials, permits, and cleanup. Labor should be factored into each line item as well. While materials and permits should be similarly priced in a particular area, no matter the vendor, labor costs will vary. Shop around to get a variety of pricing to make an educated choice.
The roofing company representative should walk you through each of the line items in the estimate. You should know exactly what they are doing and how much each part will cost. The transparency of this process should give you a good indication of how the company works and whether you should choose them.
Make sure the following is included in your estimate:
Felt: This is placed over the decking to protect against the elements. Get the size, type, and manufacturer in writing.
Waterproof membrane: It helps the roof specifically avoid ice and water damage. Ask about the kind of material the company uses and understand its benefit.
Asphalt shingles: They make your roof essentially waterproof. The manufacturer and whether they're installed on both the rakes and eaves should be in writing as well.
Top layer of shingles: Since this goes on top and is visible, verify that the estimate includes the correct style, color, and manufacturer.
Ridge caps: This is the trim you see at the top meeting point of the two slopes. Get the manufacturer and material in writing as well.
Estimated Timeline
A roofing estimate should give you clear details of when the project will start and when it will be complete. Any project can have delays, but an experienced roofer should be able to foresee what might slow the project down and give you a reasonably accurate timeline. Be sure to check the company's online reviews to see if this has been an issue in the past.
Total Cost
The total cost of the estimate should be clear in a roofing estimate. It should take into account each of the line items in the cost breakdown, including labor. It should also have taken the timeline into account. The total estimate should tell you exactly how much you can expect to pay for the roofing project.
How Long Does a Roof Estimate Last?
No estimate lasts forever. Some don't even last a year. Every company is different, but most estimates last about 90 days. Check the estimate to make sure the date is specified. You can hire at the price specified on the estimate within that time. If you decide to go forward after that date, you'll have to get another estimate with updated prices.
Warranties
A roofing estimate should also include any warranties for how long the work should hold up, what guarantees the company offers, and how any issues will be resolved, should they arise.
Again, get specific details about how your property will be protected from damage during the work. For example, when they tear off your old roof, how will they protect the structure below until the new roof is in place when they tear off your old roof? How will they protect the plants and property below while they work? These are all important details.

How Do You Know if You Need a Roof Replacement?
It's not always easy to tell if you need to replace your roof. Here are some signs that you should call a trusted specialist for an estimate:
Your shingles are damaged. This includes cracking or curling and usually indicates a typical aging process that ends with new shingles. You can certainly try to repair them if it's only a few, but be prepared to replace all of them sooner rather than later.
Shingles are loose or gone altogether. Every once in a while, especially after a heavy storm, you might have to inspect and/or replace one or two shingles. However, if you see this becoming a pattern or you find more than one shingle has broken loose, it's time to get an estimate.
The roof noticeably sags or dips. This is a normal sign of aging and deterioration. If parts of the roof sag, you can sometimes get by with repairs rather than a complete replacement. Get an inspection right away. The last thing you need is a collapse.
Shingle granules fall into your gutters. These small pebbles or grit bits start to break apart as a sign they're no longer effective.
Mildew or mold starts to grow on your roof. You don't want moisture to collect and spread. Any dark spots are not good, whether mold, mildew, algae or moss. Address them as soon as they become visible.
You see exposed nail heads on your roof. When your house settles, some nails will move around. You'll notice that from time to time. However, the more this happens, the more your roof (and what's underneath) will be susceptible to leaks. One or two might need to be repaired rather than a total replacement. Get an estimate right away.
Water damage appears in your attic or ceilings. They'll only get worse, so start collecting quotes from trusted contractors.
Your roof is over 20 years old. It might still be in good condition, but keep an eye on it. Getting a roof inspection can't hurt, and you'll at least understand if it's nearing the end and how much money needs to be set aside before it becomes an emergency.
Your heating and/or air conditioning bills have gone up. If it's not your air conditioning unit or heating system, it might be time to look at your roof.
Get Roof Rejuvenated Instead of Roof Replacement
Roof Maxx offers a far less expensive solution for asphalt shingles. You can get five more years from your current roof for just 15-20% the cost of replacing it. Contact us today and get your free quote.