What is the Cost of Roof Replacement with Solar Panels?
February 11, 2021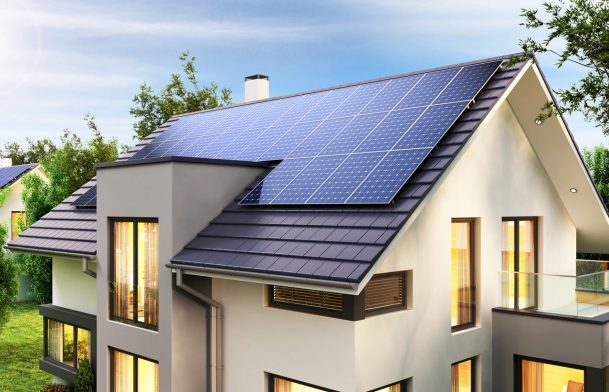 We rely on our roofs to do a lot. They have to keep our homes and our families dry and warm, stand up to harsh weather like intense sun, icy winters, hail, and strong winds, and enhance the look of your home. And if you power your home using solar panels? Your roof also has to absorb enough energy to keep your house up and running.
Typically, a roof with asphalt shingles will last about 20 years— maybe 25, at best. You may notice warning signs that it's time to replace your roof that include:

Shingles with curled edges, or tabs that are cupped
Bald spots on shingles where asphalt granules are missing
Cracked shingles
An old, worn, or sub-faded appearance
Dark streaks, moss, mold, or roof rot
But what does this replacement process look like when you have solar panels resting atop your roof? And more importantly, how much will it cost you to replace your roof when you have a solar photovoltaic system?
The Cost of Roof Replacement with Solar Panels
How much will your roof replacement cost? First, let's look at the cost of just your roof. On average, re-roofing your home costs an average of $8,169. Most homeowners spend anywhere between $5,378 and $10,991 to remove the existing shingles, make repairs where necessary, and install new shingles. Roofing materials range in price from $100 per square foot to $1,000 per square foot, depending on the kind of roofing you choose.
It's important to note that this is only the cost of your new roof. Before you can re-roof your home, your solar panels will need to be removed and then reinstalled on your new roof. Like the cost of a new roof, this process can vary greatly in price too.
For a 1,500-square-foot roof, it costs between $2,000 and $3,000 on average to remove and reinstall solar panels. This does not, however, include the cost to remove the mounting hardware for your solar panels, which approximately costs an additional $800.
What Can Impact the Cause of Your Roof Replacement?
There's no real clear answer on what exactly can impact the cost of removing your solar panels for roof replacement. Certainly, the size of your roof will affect the cause of actually replacing your roof. So will:
Roof pitch or slope
The kind of roof being removed and the number of layers
The material of your new roof
Roofing system components like underlayment and decking
Ease of access to the roof
Your roof warranty
Details like lumber, sealant, and counter-flashing
Roof replacement aside, why is there such a variance in the total cost of removing and reinstalling your solar panels? Several factors can affect the removal costs, including:

The pitch of your roof
The size of your solar panels and the number of panels in your solar array
The physical location of your panels as they relate to your home
Additionally, if your roof replacement is going to take some time, your panels will need to be securely stored to avoid any damage from falling roofing materials or other hazards. Solar panels don't weigh much, but they need to be handled carefully and stored safely. If there is no safe place to do this at your home, your solar panels will need to be shipped and stored at an off-site location, which can cost around $250.
Also, if you want to pay to have your solar panels professionally cleaned while they have been removed from your roof, this can cost anywhere between $300 to $430.
Another Option: Extending the Life of Your Investment
Are you starting to add all of this up? That's right:
On average, replacing your roof with solar panels can cost $12,771 or more.
If you're experiencing a little sticker shock, that's understandable. But is there any way to lower these costs?
Roof Maxx can extend the life of your roof by 5 years. This time can be used to budget and plan to pay for a new roof, and perhaps life may even take you to a new home during that time. While a new roof can cost around $10,000, a Roof Maxx application costs just 15 to 20 percent of that cost, which means you'll only pay around $1,500 if you were expecting to pay $10,000 for a new roof. When combined with the costs of removing and reinstalling your solar panels, this is still much lower than paying for a brand new roof at this time.
Shingles dry out and lose their flexibility, but Roof Maxx's plant-based bio-oil revives their look and pliability so you don't have to pour tens of thousands of dollars into your roof all at once. Want to learn more? Contact us today!