4 Common Winter Roofing Problems (And How to Avoid Them)
January 14, 2021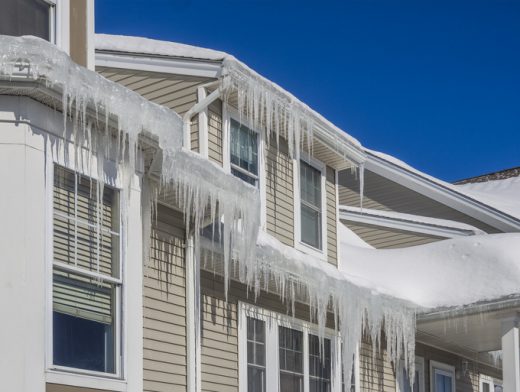 In many parts of the country, winter brings extreme weather like snow, ice storms, and freezing temperatures. More moderate climates may be prone to heavy rains in the winter. Staying on top of roof maintenance is key to avoiding major issues that could cost you thousands of dollars in the long run.
We created our guide to winter roofing to explain the most frequent winter roof problems and our exciting new method to avoid them.
1. Excessive Weight from Ice and Snow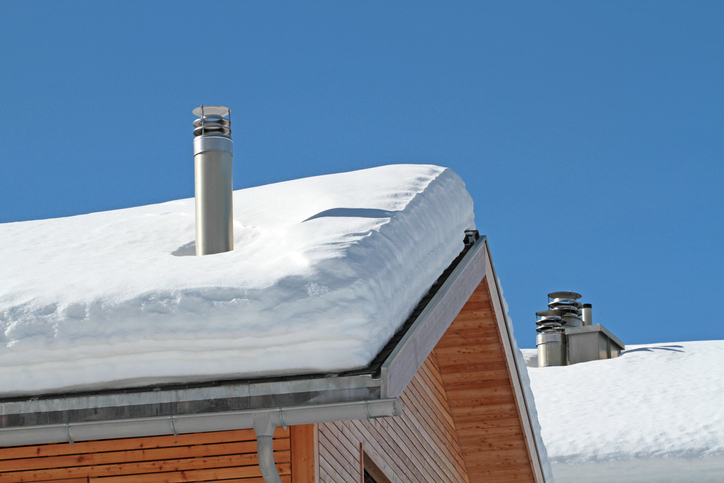 When snow piles up on the roof, many homeowners think the problem will take care of itself. Although that is sometimes the case, there are other times when excessive snow buildup leads to major roof damage, such as leaks, ice dams, or even causing the roof to cave in.
You can avoid these problems by knowing the maximum weight your roof can support. (When it comes to snow, most roofs can handle about 20 pounds per square foot.) Then it's time to calculate how much snow is actually on your roof.
You can determine the snow load on your roof using a household measuring tape and some simple calculations. Keep in mind:
10 inches of fresh snow = 5 lbs per square foot
2 feet of packed snow = more than 20 pounds per square foot
1 inch of ice = as much as one foot of fresh snow
If the snow on your roof exceeds its weight limit, remove the snow with a rake or contact a roofing professional to handle the job and check for signs of damage.
2. Installation Errors
Installation errors account for the second major roofing risk factor. These mistakes become even more apparent in winter when snow, debris, and cold temperatures exacerbate small issues in craftsmanship.
Here are some common errors and suggestions on how to avoid making them yourself:
Incorrect measurements. Avoid this problem by taking field measurements before ordering materials.
Selecting the wrong materials. Measure the pitch of your roof before ordering any materials.
Choosing the wrong underlayment. Read your building code to choose the right type of underlayment.
Attaching flashing incorrectly. Doublecheck to make sure you have chosen the right flashing, and be sure to cover the whole area to prevent leaks.
3. Ice Dams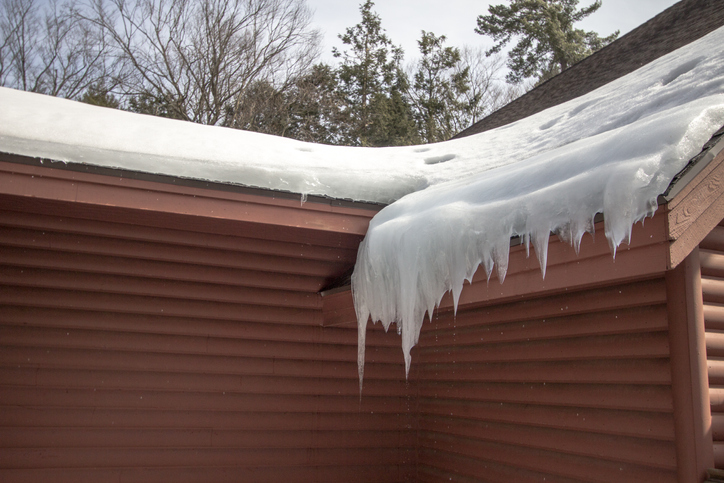 When the snow melts on the roof and then refreezes, dangerous ice dams may form, accelerating the growth of mold and mildew on the roof. Ice dams can also cause leaks or harm insulation and other parts of the home.
Ice dams are more likely to form when the roof's surface temperature is inconsistent, so the issue can be prevented by improving insulation in the attic. This will minimize heat loss and create a consistent temperature across the roof. Exhaust systems and chimneys can be other areas of heat loss, so it's important to check these areas for problems, too.
4. Cracked Shingles
Cracked shingles may seem harmless, but in the winter, those cracks can quickly lead to major leaks. Because the roof can be slippery in the winter, it's best to look for cracked shingles by examining the roof from a distance with a pair of binoculars. If you see shingles that are curling, crumbling, cracked, or missing, you'll want to repair them right away.
Shingles can be replaced using roofing cement or fresh caulking, but it's best to hire a roofing contractor to handle the job in the winter.
Preserve the Life of Your Roof with Roof Maxx
Winter roof maintenance is essential to prolonging the life of your roof—but there's, even more, you can do to extend your roof's lifespan. Hire Roof Maxx today and see how our all-natural roofing treatment restores worn-out shingles, instantly adding 5 years to the life of your roof.
A regular Roof Maxx application, once every 5 years can save you thousands of dollars by prolonging the need for roof replacement. Roof Maxx will extend the life of your roof by up to 15 years. Learn more today.