Roof Repairs and Replacements With Solar Panels
May 23, 2020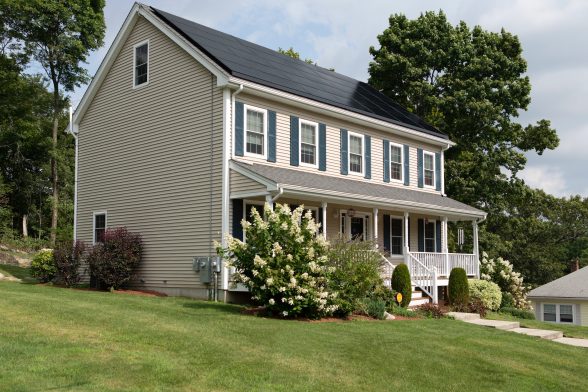 All roofs have a lifespan. They need routine repair and careful maintenance just like every other part of our homes.
But when you add solar panels atop your roof, how does that affect your roof? What do roofing repairs and renovations look like when you've installed solar panels to cut down on your carbon emissions?
There's a bit of preparation that needs to happen before you hire a roofer to come over and work on the eaves. Here's what you need to know about roof repairing or replacing your roof that has solar panels installed on it:
Why Does a Roof Need to Be Repaired or Replaced?
Even with the added protection of solar panels that can act as the first line of defense against the harsh sun or inclement weather like hail, snow or ice, roofs need to be repaired and replaced.
What are some signs that your roof has incurred damage and needs maintenance?
Buckling or curling shingles
Water spots on your ceiling
Missing shingles or missing asphalt granules
Blistering or bubbling of shingles
This kind of damage can expose your home to moisture, which can make it vulnerable to mold, rot and decay. Roofing issues need to be addressed right away to protect your home.
Roofs also have a natural lifespan. Typically, asphalt shingles last somewhere between 15 and 30 years, while other sources say it's around 20 years. After that, they lose their ability to shield your home from the elements and need to be replaced.
The Cost of Solar Panel Removal for Roof Repair
Solar panels last for 25-30 years, but if your roof needs to be replaced, your solar panels will need to be removed first and at least some of the panels will need to be removed by a professional for repairs as well. Homeowners should expect that any time they have roofing work done, these panels will need to be removed and then reinstalled after the work is completed.
You should be aware of the cost of removing these solar panels for roof repair before jumping into any kind of roofing project. What exactly should you expect when having your solar panels removed? Here's what it will cost:
Labor: The average home solar panel installation is somewhere around 14 to 16 panels on a 1,500-square-foot roof. You can expect to pay somewhere between $2,000 and $3,000 to have solar panels removed. This may vary based on the difficulty of the location, the pitch of the roof and the number of solar panels as these factors all will require additional hours or more workers. The panels will then need to be replaced after the work is completed, which is an additional cost.
Mounting Hardware: If you are replacing your roof, the mounting hardware also must be removed, which will cost approximately $800.
Solar Panel Cleaning: When your solar panels are removed, this is the perfect time to have them cleaned before reinstalling them, which will cost between $300 and $430.
Storage: While your roof is being repaired or replaced, your solar panels need to be kept where they won't be damaged. There are hundreds of sensitive electrical connections and circuits that easily can be damaged. If there is nowhere for these panels to be stored in your home, they need to be transported and stored, which can cost around $250.
Other estimates put the cost of removing and reinstalling solar panels somewhere in the ballpark of $1,500 to $6,000.
Some things to consider though? Solar panels are much more durable than roofing shingles, which means that they can hold up against the weather. Since they act as a natural shield for your roof, they also can help extend the lifespan of the shingles that are covered by the panels, which means that maintenance doesn't happen quite so frequently.
Benefits of Solar Panels on Your Roof
The benefits that solar panels have on your roof are numerous. From the lowered monthly electric bills to the tax credits and rebates, more and more homeowners are choosing to install solar panels on their roofs. One of the best ways to get longer use out of your roofing investment is to extend the life of your shingles so that your roof needs to be repaired and replaced less frequently, saving you money in the process.
A Roof Maxx treatment to your existing roof can extend the life of your roof by as much as five years. Before solar panels are installed, the application of liquid soy compound penetrates deep into the shingles, adding flexibility and pliability and extending life expectancy.
The pairing of solar panels and a Roof Maxx application is the formula for a long-lasting, durable roof.
Want to learn more about how Roof Maxx can provide your roof and solar panel installation with a longer lifespan? Contact us today!