About Roof Maxx of Eau Claire, WI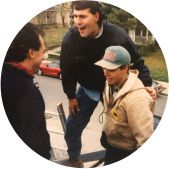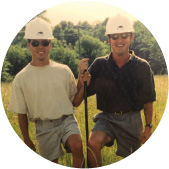 How Roof Maxx became the most affordable roofing in Eau Claire, WI
Roofing is what we do best.
Our founders, brothers Mike and Todd Feazel, have certainly learned the ropes of the roofing industry. They began their first roofing company back in 1988, so they've had plenty of time to see how the industry has evolved. That first roofing business became one of the most successful in the country, and it gave them first-hand insight into how asphalt shingles were made. Over time, they noticed those shingles didn't last as long as they used to.
Changes in the oil refining industry affected asphalt resources, so when costs shot up, manufacturers simply started putting less asphalt in shingles. Shingles weren't as flexible and didn't have the ability to withstand changes in temperature and weather. This created a ripple effect, leading to less quality affordable roofing in towns like Eau Claire, WI, since homeowners now had to replace and repair their roof more frequently than they used to.
My brother and I could see the staggering number of roofs at risk across the country and wanted to do something about it. Now, through Roof Maxx, we're looking out for asphalt roofs, the people under them, their hard-earned money and the planet.

Mike Feazel
CEO, Roof Maxx
Now we proudly provide affordable roofing in Eau Claire, WI.
In 2013, Mike and Todd sold their roofing company and decided to put all of their focus into roof rejuvenation and sustainability. They sought out new technologies to make shingles last longer, and with the help of R&D company Battelle Laboratories, they made it happen. Shortly thereafter, Roof Maxx was born.
Today, it's easy to extend the life of your asphalt roof with just one application of our roof rejuvenation product. Since we can come back and do the job three times, you can add up to 15 years to the life of your roof. You'll save thousands of dollars and keep your shingles out of a landfill. Local dealer Dean Makemson and his team are proud to be your source for affordable roofing in Eau Claire, WI. Schedule a free estimate today.
Connect with Roof Maxx of Eau Claire, WI
Roof Maxx is your affordable roofing source in Eau Claire, WI.
Five Year Transferable Warranty
With our five-year, transferable warranty, you'll enjoy the peace of mind that your roof and entire home are protected.