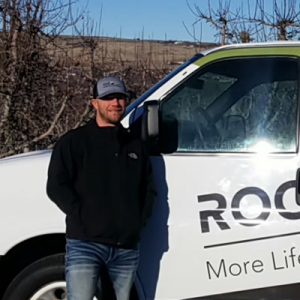 Heath Reeves
Roof Maxx of Yakima WA
(509) 654-8580
---
hreeves@roofmaxx.com
5901 Crestfields Rd
Yakima, WA 98903
How our roofing company in Yakima, WA, is transforming the industry.
When your asphalt shingles become dry and brittle, you may groan at the prospect of paying for an expensive roof replacement. But Roof Maxx offers an incredible alternative with our affordable roof rejuvenation process, which restores the natural oils to your shingles and can add five years to the life of your roof per treatment. And it's so much more affordable than a new roof that our roofing company in Yakima, WA, can literally save you thousands of dollars.
How Roof Maxx works.
Asphalt shingles contain natural oils that keep them pliable and effective. Most asphalt roofs wear out faster than they used to with some roofs even failing within 6-8 years. If you see sand-like granules in your gutter, this could be a sign that your shingles are flaking off and losing their natural oils. We're happy to come to inspect your roof to determine if Roof Maxx is right for you. Once we make sure it's a good fit, we can set up an appointment to apply our eco-friendly Roof Maxx treatment. It's a fraction of the cost of a full roof replacement. Just 15-20% of a roof replacement to be exact.
Schedule your free estimate today.
If you are looking for a reputable, innovative roofing company in Yakima, WA, get in touch with Roof Maxx. We're local to the Yakima area and we love to help our friends and neighbors save thousands of dollars—not to mention keeping shingles out of landfills for years and years. We'll give you a free estimate and let you know how your roof can benefit from roof rejuvenation. Contact our team today.
Contact our roofing company in Yakima, WA
Here's how we handle things:

We'll Assess Your Roof.
We've applied Roof Maxx to roofs as young as six or seven and as old as 30, though older roofs may require some work first. We'll let you know, and set up an appointment if we're good to go.

We'll Apply Roof Maxx.
Many roofs require a little tune-up to make Roof Maxx most effective, so we'll do that first when we come back. Then it's time to rejuvenate your roof. This amazing process usually takes less than two hours.

Five Years. Guaranteed.
By choosing Roof Maxx, you've added five years to the lifespan of your roof—guaranteed. And if you end up moving during that time, we can transfer the warranty to the new owners.
Roof Maxx is your trusted roofing company in Yakima, WA.