About Roof Maxx of Gig Harbor, WA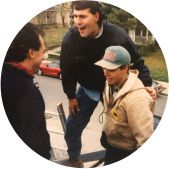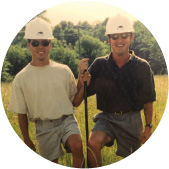 How Roof Maxx started offering affordable roofing in Gig Harbor, WA
Capitalizing on 30 years of roofing experience.
In 1988, our founders, brothers Mike and Todd Faezel, started their roofing business. Over the next 25 years, it grew into one of the most successful roofing companies in the United States. During that time, the brothers gained extensive knowledge in roofing and observed several changes in the roofing industry, including how asphalt shingles were manufactured.
Due to changes in oil refining, manufacturers were forced to include less asphalt in shingles, which reduced the amount of necessary oil needed to keep them flexible and durable. The result? Asphalt roofs are not lasting as long and are not as effective as they once were, leaving expensive roof replacement the only alternative. The Faezel brothers set to work to make quality affordable roofing in places like Gig Harbor, WA and beyond possible for home and business owners.
My brother and I could see the staggering number of roofs at risk across the country and wanted to do something about it. Now, through Roof Maxx, we're looking out for asphalt roofs, the people under them, their hard-earned money and the planet.

Mike Feazel
CEO, Roof Maxx
We're helping the environment and your wallet.
In 2013, Mike and Todd turned their attention to sustainable roofing. Working with Battelle Laboratories, they created Roof Maxx, made from 100% natural, plant-based oil that soaks into shingles and restores their ability to withstand the elements. A single treatment of Roof Maxx extends the lifespan of your roof by five years, saving you thousands of dollars on roof replacement.
As Roof Maxx has spread throughout the nation, we've partnered with local Gig Harbor dealer Steven Mertens. Steven is proud to operate a family-run business that focuses on community and family values. He offers a number of roof rejuvenation services including moss removal and roof cleaning. By partnering with Roof Maxx, he is helping the environment and your wallet too. To start saving money and keep your home protected for years to come, schedule a free estimate for affordable roofing in Gig Harbor, WA.
Connect with Roof Maxx of Gig Harbor, WA
Roof Maxx is your affordable roofing resource in Gig Harbor, WA.
Five Year Transferable Warranty
With our five-year, transferable warranty, you'll enjoy the peace of mind that your roof and entire home are protected.