About Roof Maxx of Fredericksburg, VA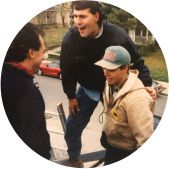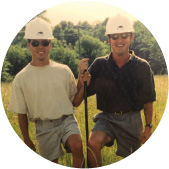 About Roof Maxx, your affordable roofing company in Fredericksburg, VA.
We believe in service and professionalism.
Roof Maxx began when brothers Mike and Todd Feazel sold their roofing business of 25 years to focus on finding an affordable and sustainable solution to expensive roof replacement. Changes in oil refining led to the decrease in quality of asphalt shingles and their natural oils needed to protect a roof. As the oils in your shingles dry out over time, they become brittle and prone to damage.
Roof Maxx was created in collaboration with the team of scientists at Battelle Labs as a revolutionary and sustainable new roof rejuvenation treatment. Thanks to Roof Maxx's innovative technology, it's now possible to extend the life of your roof and avoid a costly and premature replacement. Our sustainable roof rejuvenation product saturates shingles with natural oil to strengthen your roof against the elements, all for a fraction of the price of a new roof. It's what makes us the top source for affordable roofing in North Fredericksburg, VA.
My brother and I could see the staggering number of roofs at risk across the country and wanted to do something about it. Now, through Roof Maxx, we're looking out for asphalt roofs, the people under them, their hard-earned money and the planet.

Mike Feazel
CEO, Roof Maxx
Roof Maxx can add up to 15 years to the life of your asphalt roof.
With Roof Maxx, you can add five years to the life of your roof with one application, and 15 years total with treatments once every five years. Roof Maxx is a sustainable solution that is 100% natural, plant-based and is safe for people, property, and pets. We also help preserve our local environment by keeping asphalt shingles out of landfills.
Roof Maxx of Fredericksburg, VA is a veteran owned and operated small business founded in 2019 by Nick Roberge, a retired U.S. Marine with a strong background in both aircraft maintenance and marksmanship. As your affordable roofing company in North Fredericksburg, VA, we pride ourselves on our service and professionalism. Our goal is to help you keep your roof longer so you and your family stay protected for years to come. Schedule a free estimate and start saving money today.
Connect with Roof Maxx of Fredericksburg, VA
Roof Maxx is your source for affordable roofing and roof restoration in Fredericksburg, VA.
Five Year Transferable Warranty
With our five-year, transferable warranty, you'll enjoy the peace of mind that your roof and entire home are protected.