About Roof Maxx of N San Antonio, TX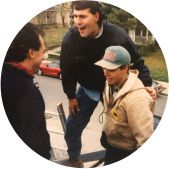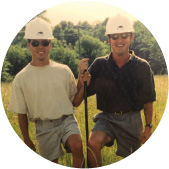 The story of Roof Maxx affordable roofing in North San Antonio, TX
Combining experience and innovation.
In 1988, brothers Mike and Todd Feazel started a roofing business. As they expanded their company into one of the largest and most successful in the US, they observed how the roofing industry was changing, even down to how asphalt shingles were being made.
Changes in the oil refining industry decreased the amount of asphalt available for manufacturing shingles and caused asphalt to rise in cost significantly. So, shingle manufacturers began using less asphalt in shingles, which led to a reduction in the durability and lifespan of roofs everywhere. Mike and Todd sold their roofing company in 2013 to focus on roof rejuvenation and sustainability. With help from Battelle Laboratories, Roof Maxx was born.
My brother and I could see the staggering number of roofs at risk across the country and wanted to do something about it. Now, through Roof Maxx, we're looking out for asphalt roofs, the people under them, their hard-earned money and the planet.

Mike Feazel
CEO, Roof Maxx
We proudly offer affordable roofing in North San Antonio, TX.
Today, you can add five years of life to your asphalt roof with just one application of Roof Maxx—and 15 years with up to three applications every five years. Roof Maxx is creating a revolution in affordable roofing in places like North San Antonio, TX. An application can be done in a single day, and at just 20% of the cost of a full roof replacement, Roof Maxx saves you time and money.
John Garcia is your Roof Maxx dealer in North San Antonio, TX. His background in sales, service, and management as an independent insurance adjuster and real estate agent gives him a unique perspective on home maintenance needs. He believes in building long-lasting client relationships by doing what's right for his clients and delivering first-class customer service. John's passion to help people is what drives him to make Roof Maxx the best source for affordable roofing in San Antonio, TX while making a positive impact on his community. Contact us for a free estimate today.
Connect with Roof Maxx of North San Antonio, TX
Roof Maxx is your affordable roofing resource in North San Antonio, TX.
Five Year Transferable Warranty
With our five-year, transferable warranty, you'll enjoy the peace of mind that your roof and entire home are protected.