About Roof Maxx of N Bethlehem, PA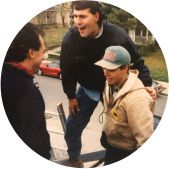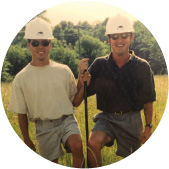 Affordable roofing in North Bethlehem, PA.
The Roof Maxx history.
During their 30 years in the roofing industry, Roof Maxx founders Todd and Mike Feazel noticed that asphalt shingles were failing quicker than they ever had before. They decided to find a solution, and with help from Battelle Labs and their state-of-the-art technology, Roof Maxx was created. Our product is environmentally-friendly and 100% naturally plant-based. It saturates dry and brittle roof shingles in oil to extend their life up to five years per treatment.
Thanks to Roof Maxx's roof restoration, homeowners can save thousands that they would normally spend on roof repair or replacement. And the longer your roof lasts, the less construction waste builds up in landfills. Our treatment can be applied up to three times, increasing your roof's lifetime by 15 years.
My brother and I could see the staggering number of roofs at risk across the country and wanted to do something about it. Now, through Roof Maxx, we're looking out for asphalt roofs, the people under them, their hard-earned money and the planet.

Mike Feazel
CEO, Roof Maxx
We're proud to offer affordable roofing in North Bethlehem, PA.
As your source for affordable roofing in North Bethlehem, PA, we provide nothing short of 5-star service. Our Roof Maxx dealership is a nationwide brand but locally and family-owned. We are Matt and Kristen Boyer, the owner-operators and certified applicators of the cutting-edge Roof Maxx roof rejuvenation solution.
We are proud to provide an environmentally-friendly, innovative, and affordable solution to conventional roof replacement, as well as roof tune-up and roof cleaning. We are also parents and neighbors in the greater Nazareth community and serve the Lehigh Valley and surrounding areas. We work tirelessly to provide a high-value product and superior service to our fellow community members. Discover what our affordable roofing in North Bethlehem, PA can do for you by calling to schedule a free estimate today.
Connect with Roof Maxx of North Bethlehem, PA
Roof Maxx is your source for affordable roofing in North Bethlehem, PA.
Five Year Transferable Warranty
With our five-year, transferable warranty, you'll enjoy the peace of mind that your roof and entire home are protected.