About Roof Maxx of Meadville, PA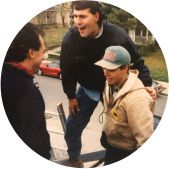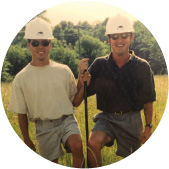 How Roof Maxx made affordable roofing in Meadville, PA a reality
We've solved the biggest puzzle in roofing.
The founders of Roof Maxx, brothers Mike and Todd Feazel, have been leaders in the industry since they started their first company back in 1988. During that time, they learned all they could about roofing. They also saw one of the biggest problems for homeowners and businesses: asphalt roofing wasn't lasting as long as it used to.
Asphalt shingles contain oil that helps them flex with changes in the weather. Over time, they lose these oils, dry out, and become brittle. This leaves them vulnerable to the elements, which is a big deal when you consider the fact that Meadville gets precipitation half the days of the year. To make matters worse, changes in how asphalt shingles are made have left them containing less oil, so they have started to fail faster. Affordable roofing in towns like Meadville, PA, had become harder to find.
My brother and I could see the staggering number of roofs at risk across the country and wanted to do something about it. Now, through Roof Maxx, we're looking out for asphalt roofs, the people under them, their hard-earned money and the planet.

Mike Feazel
CEO, Roof Maxx
Roof Maxx has brought affordable roofing to Meadville, PA
Mike and Todd decided to take this challenge head-on. They sold their company in 2013 to focus on changing the industry. Years of research and development led to an innovative breakthrough—Roof Maxx. Roof rejuvenation from Roof Maxx adds five years of performance to asphalt shingles, keeping your home or business protected for just 20% of the cost of replacing it. Now that's affordable.
Your local Roof Maxx is owned by Mark Weber. Give us a call and find out how we can add up to 15 years of life to your roof with three applications of Roof Maxx, once every five years. We have brought affordable roofing to Meadville, PA, and we help protect the local environment by keeping your shingles going strong.
Contact the local Roof Maxx of Meadville, PA
Roof Maxx is your local source for affordable roofing in Meadville, PA.
Five Year Transferable Warranty
With our five-year, transferable warranty, you'll enjoy the peace of mind that your roof and entire home are protected.