About Roof Maxx of Findlay, OH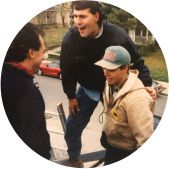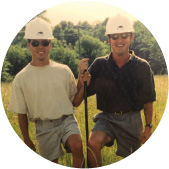 How affordable roofing came to be in Findlay, OH.
From simple beginnings come great results.
Our story begins like many others in the roofing industry. Our founders, Mike and Todd Feazel, started their own roofing business in 1988. Over the next two decades, the brothers continued building their business and were able to expand into one of the most successful roofing businesses in the country. They became experts in their field and learned all there was to know about roofing.
Over the years, the amount of asphalt available dropped dramatically, which caused costs to skyrocket. Unfortunately, manufacturers began putting less asphalt in shingles to compensate. This meant that affordable roofing in Findlay, OH, was nowhere to be seen. Our founders knew that there had to be a better way. With years of research and some inspiration from Battelle Laboratories, they discovered a technology that revolutionized roof rejuvenation. This technology is the basis of Roof Maxx.
My brother and I could see the staggering number of roofs at risk across the country and wanted to do something about it. Now, through Roof Maxx, we're looking out for asphalt roofs, the people under them, their hard-earned money and the planet.

Mike Feazel
CEO, Roof Maxx
Affordable roof rejuvenation is now available in Findlay, OH.
Under the leadership of our regional owner, Bill Bateson, our Findlay team of experienced roofers are ready and willing to help you obtain affordable roofing. Just one application of Roof Maxx can add 5 years to your roof's lifespan and 15 years total with subsequent treatments. Roof Maxx also offers a 5-year transferable warranty to the new homeowners if you decide to move, and is only 20% of the cost of a roof replacement.
Roof Maxx utilizes an all-natural bio-oil treatment for your asphalt shingles, which gives them new strength and flexibility. It only takes a few hours to apply and is 100% safe for family and pets. Each roof can have up to three treatments, extending the lifespan of your roof up to 15 total years. This keeps shingles out of overcrowded landfills and helps you to save thousands of dollars.
Connect with Roof Maxx of West Hartford, CT
Roof Maxx is your affordable roofing resource in Findlay, OH.
Five Year Transferable Warranty
With our five-year, transferable warranty, you'll enjoy the peace of mind that your roof and entire home are protected.