ROOF MAXX OF
Fargo, ND
Roof Maxx is a safe, easy, proven and affordable alternative to a complicated, expensive and life-disrupting asphalt roof replacement.
AS SEEN ON: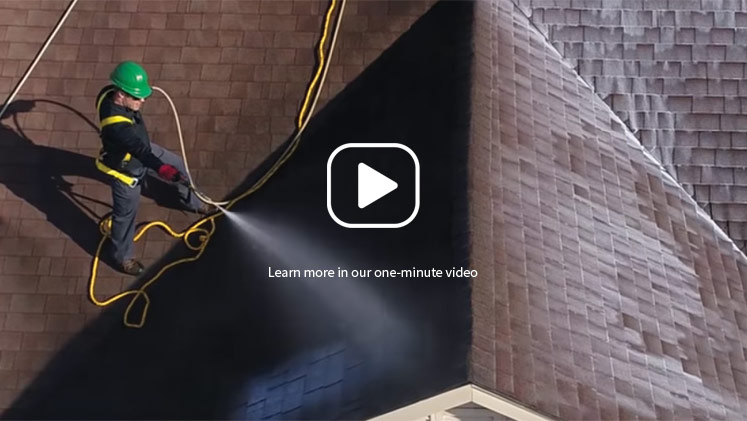 Save money and get more out of your roof with Roof Maxx roofing company in Fargo, ND.
Asphalt shingles aren't manufactured with the same amount of asphalt as they used to be. Less asphalt means less of the natural oil it contains, so shingles are drying out and failing faster than they have in the past. Fortunately, Roof Maxx roofing company in Fargo, ND can restore dried-out shingles with a 100% natural, sustainable product and save you thousands of dollars.
What are the benefits of roof rejuvenation?
Roof Maxx roof rejuvenation treatments can be applied to your shingles at a fraction of the cost of a roof replacement. You'll save thousands of dollars, plus add five years to the life of your roof with each application. In North Dakota, your roof will most likely be ready for Roof Maxx when it's around 8-10 years old. If we start this early, it's possible to give your roof three treatments, five years apart, and enable you to get 15 more years from your roof before it needs to be replaced.
How do I know if my roof is ready for Roof Maxx?
As your shingles are exposed to subzero temperatures and heavy snowfall each winter in Fargo, as well as UV rays year-round, they will begin to lose their natural oils. When this happens, you may notice that tiny asphalt granules are flaking off and ending up in your downspouts or rain gutters. You may also discover that the shingles themselves are becoming dry, cracked, or brittle. These are all signs that your roof is ready for roof rejuvenation from our roofing company in Fargo, ND.
It All Adds Up
Roofingmakes up 10% of construction waste in landfills
And creates 13.5 million tons of waste annually
Good thingRoof Maxxcosts just 20% of a roof replacement
And can extenda roof's life by 5 years with one application
Make that 15 years with applications every five years
Contact our roofing company in Fargo, ND
Our process consists of three easy steps:

We'll Assess Your Roof.
We'll take a look at your roof to see what condition it is in and let you know if any repairs need to be made. If it's ready for roof rejuvenation, we'll schedule a time to come back.

We'll Apply Roof Maxx.
After a basic roof tune-up, we'll apply Roof Maxx treatments to your roof. We'll save you money and be out of your hair in less than two hours.

Five Years. Guaranteed.
Our all-natural, sustainable solution is guaranteed to keep your roof younger longer. We stand by our warranty and will even transfer it to a new homeowner if you move during the five year time period.
Roof Maxx is your trusted roofing company in Fargo, ND.
How do I know if my roof is ready for Roof Maxx?
Asphalt shingles contain small, sand-like pebbles that stick together when shingles natural oils are intact. Once those oils start to dry out with age, you may see the granules flaking off in your gutters or downspouts. You might also notice black stains and streaks or shingles cracking, breaking, and curling. Since each roof is different, your local dealer will perform a free inspection to tell if Roof Maxx can help you.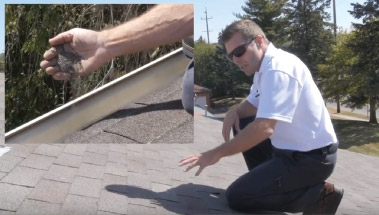 Contact our roofing company in Fargo, ND