About Roof Maxx of Rochester, NY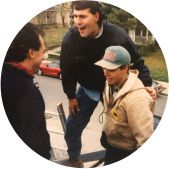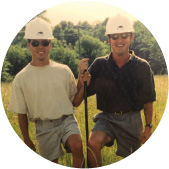 Roof Maxx: Bringing affordable roofing in Rochester, NY
The beginning of Roof Maxx.
Our founders, brothers Mike and Todd Feazel, spent 25 years growing and operating one of the largest, most successful roofing companies in the country. During that time, they became experts in the roofing industry and watched it evolve. It wasn't until a change in asphalt shingle production that Mike and Todd sold their business and turned their attention to sustainable roofing.
When the cost of asphalt dramatically increased, manufacturers had to include less asphalt in their shingles. As a result, shingles are drying out and failing faster than ever and costing home and business owners thousands of dollars in roof replacement. To help bring back quality affordable roofing in places like Rochester, NY, our founders wanted to find a way to extend the lifespan of shingles rather than replace them. Soon after this, Roof Maxx was created.
My brother and I could see the staggering number of roofs at risk across the country and wanted to do something about it. Now, through Roof Maxx, we're looking out for asphalt roofs, the people under them, their hard-earned money and the planet.

Mike Feazel
CEO, Roof Maxx
Now, we're providing affordable roofing in Rochester, NY.
With the help of Battelle Laboratories, Mike and Todd created a roof rejuvenation product that reverses the aging process in shingles. Our treatment is made from natural, plant-based oils that are safe for humans, animals, and the planet. When applied, old, brittle shingles regain the ability to expand and contract and get an additional five years of life. Roof Maxx can be applied up to three times, adding 15 years of life to your roof and postponing the need for a costly roof replacement to save you thousands of dollars.
Today, we're proud to have a local Rochester team as certified Roof Maxx dealers. Our team is committed to providing you with affordable roofing in Rochester, NY, and strives to ensure we have a strong, trusting relationship with each of our customers. Contact Roof Maxx today to learn more about our services and to get a free estimate.
Contact a Roof Maxx dealer of Rochester, NY
Roof Maxx is your affordable roofing resource in Rochester, NY.
Five Year Transferable Warranty
With our five-year, transferable warranty, you'll enjoy the peace of mind that your roof and entire home are protected.