About Roof Maxx of Corning, NY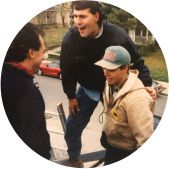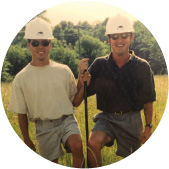 How Roof Maxx made affordable roofing in Corning, NY, possible.
We know the roofing business.
Brothers Mike and Todd Feazel have been leaders in the roofing business since they started their first roofing company back in 1988. For 25 years, they built that company into an industry leader. During that time, they noticed changes in how long asphalt shingles could stand up to the elements.
Asphalt shingles are manufactured differently than they were in the past and now contain less oil than they once did. These natural oils enable shingles to expand and contract with changes in the weather. Less oil means they dry out sooner and lose their ability to protect your home or business from the elements. That's a big deal in Corning where we see almost twice the national average of snowfall during our very cold winters.
My brother and I could see the staggering number of roofs at risk across the country and wanted to do something about it. Now, through Roof Maxx, we're looking out for asphalt roofs, the people under them, their hard-earned money and the planet.

Mike Feazel
CEO, Roof Maxx
Now you can get affordable roofing in Corning, NY.
After selling their company in 2013, Mike and Todd focused on solving the shorter lifespans of asphalt roofs. Their work with Battelle Laboratories, the largest private research and development company in the world, led to the creation of Roof Maxx. Our all-natural roof rejuvenation product restores the oils to your shingles and adds 5 years of life to your roof with a single application.
Terry Keegan owns our local Roof Maxx and specialize in eco-friendly alternatives that bring life and looks back to your existing roof. Roof Maxx is 100% safe for people, pets, and plants. We can apply our Roof Maxx roof rejuvenation treatment to your roof up to three times—once every 5 years—to add up to 15 years of life to your roof. Plus, one treatment of Roof Maxx costs just 20% of what a new roof would cost. Thanks to Roof Maxx, affordable roofing in Corning, NY is now a reality.
Contact your local Roof Maxx of Corning, NY
Roof Maxx is your local source for affordable roofing in Corning, NY.
Five Year Transferable Warranty
With our five-year, transferable warranty, you'll enjoy the peace of mind that your roof and entire home are protected.