About Roof Maxx of Marlboro, NJ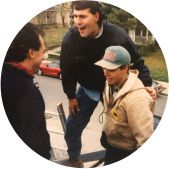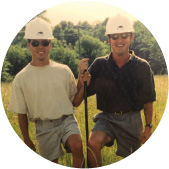 Learn about the company that brought affordable roofing to Marlboro, NJ.
How we became leading experts in the roofing industry.
In 1988, Roof Maxx founders, brothers Mike and Todd Feazel, started their own roofing company. Over the next 25 years, they focused on growing this company and learning all there is to know about the roofing industry. It wasn't until a change in the way asphalt shingles are made that they turned their attention to providing sustainable, affordable roofing to Marlboro, NJ.
Today's shingles are drying out faster than ever. This is because of less asphalt being included during production. With less asphalt, shingles have less of the flexibility needed to withstand New Jersey weather conditions like humidity, cold fronts from the Atlantic, rain, and snow. Rather than replacing shingles, our founders wanted to find a way to extend their lifespan and save home and business owners money on roof rejuvenation. Our revolutionary formula was created not long after.
My brother and I could see the staggering number of roofs at risk across the country and wanted to do something about it. Now, through Roof Maxx, we're looking out for asphalt roofs, the people under them, their hard-earned money and the planet.

Mike Feazel
CEO, Roof Maxx
Bringing sustainable, affordable roofing to Marlboro, NJ. 
After selling their roofing company, Mike and Todd partnered with Battelle Laboratories to create a roof rejuvenation formula that could restore shingles to like-new condition. We accomplish this by replenishing the lost oil with natural plant-based oils. When applied, these oils penetrate deep into shingles to restore flexibility and durability. A single treatment of Roof Maxx can extend your roof's life by five years. With three treatments possible, that's an extra 15 years to your roof's lifespan.
The best part about Roof Maxx is the money you can save on roof replacement. Our formula postpones the need for expensive roof replacement and focuses on getting the most life out of your existing roof. Roof Maxx also costs just a fraction of most roof replacement projects, allowing you to save more of your hard-earned money. If you're ready to enjoy affordable roofing in Marlboro, NJ, contact us today.
Contact a Roof Maxx dealer in Marlboro, NJ.
Roof Maxx is your trusted roofing company in Marlboro, NJ.
Five Year Transferable Warranty
With our five-year, transferable warranty, you'll enjoy the peace of mind that your roof and entire home are protected.