About Roof Maxx of Grand Rapids, MI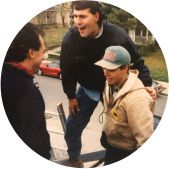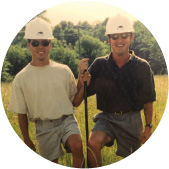 Roof Maxx is your affordable roofing company in Grand Rapids, MI.
We've walked the walk as roofers.
Having 25 years of experience running one of the largest and most successful roofing companies in the U.S. is just one reason you can trust the amazing roof rejuvenation product created through the drive and innovation of Mike and Todd Feazel.
Over time, the Feazel brothers noticed a change in the durability of asphalt shingles as compared to when they started their business in 1988. A reduction in the asphalt supply due to changes in the oil refining business meant that manufacturers started using less asphalt in their production process. However, less asphalt meant less of the natural oils needed to keep shingles flexible and able to handle the fluctuations of heat, cold, and other elements of nature. As a result, asphalt roofs are not lasting as long as they once did, making affordable roofing in Grand Rapids, MI harder to find—until Roof Maxx.
My brother and I could see the staggering number of roofs at risk across the country and wanted to do something about it. Now, through Roof Maxx, we're looking out for asphalt roofs, the people under them, their hard-earned money and the planet.

Mike Feazel
CEO, Roof Maxx
Offering affordable roofing in Grand Rapids, MI.
Mike and Todd saw a need and answered the call. In 2013, they sold their roofing business so they could concentrate their efforts on finding a solution to the roof deterioration problem. Their drive led them to Battelle Laboratories, the world's largest private research and development team. This partnership resulted in the creation of Roof Maxx.
Roof Maxx's all-natural bio-oil roof rejuvenation treatment can add 5 years of life to an asphalt shingle roof with just one quick and easy application. Not only can it save you money, but it is also saving the environment by keeping asphalt shingles out of landfills and reducing the carbon footprint of roof replacements.
Connect with Roof Maxx of Grand Rapids, MI
We're your affordable roofing option.
Five Year Transferable Warranty
With our five-year, transferable warranty, you'll enjoy the peace of mind that your roof and entire home are protected.