About Roof Maxx of Framingham, MA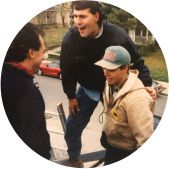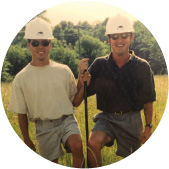 The story of how Roof Maxx created affordable roofing in Framingham, MA.
We're roofers to our very core.
The founders of Roof Maxx, Mike and Todd Feazel, began with a modest roofing business in 1988. Over the next two and a half decades, these brothers turned their business into one of the most successful roofing companies in the United States. They became experienced in everything roofing, including roof rejuvenation, and watched as their industry evolved over time.
One of the biggest changes they observed was how asphalt shingles were made. Changes occured in oil refining that caused prices to skyrocket and led manufacturers to reduce the amount of asphalt in shingles. Less natural oil from asphalt caused shingles to dry out faster and become more prone to damage, significantly shortening the lifespan of asphalt roofs everywhere. This made quality affordable roofing in places like Framingham, MA hard to find.
My brother and I could see the staggering number of roofs at risk across the country and wanted to do something about it. Now, through Roof Maxx, we're looking out for asphalt roofs, the people under them, their hard-earned money and the planet.

Mike Feazel
CEO, Roof Maxx
We're proud to offer you affordable roofing in Framingham, MA.
In 2013, our founders sold their roofing company in order to focus on finding an affordable roof rejuvenation solution. Leveraging advances in bioscience from Battelle Laboratories, Roof Maxx was eventually born. Now one easy treatment of our 100% natural bio-oil adds five years of life to your roof at 20% the cost of a roof replacement, saving you thousands of dollars.
The owners of our current location in Framingham, MA, David and Deb Levy, have spent the last 40 years becoming successful parents and business owners. Inspired by a passion for service, they treat all of customers, employees, and suppliers as part of our extended family, striving for a "win-win scenario" for everyone. As approved dealers of Roof Maxx, we are proud to offer an affordable roofing solution in Framingham, MA that is friendly towards your budget and the environment. To schedule a free estimate call us at 508-474-HOME.
Connect with Roof Maxx of Framingham, MA.
Roof Maxx is your affordable roofing resource in Framingham, MA.
Five Year Transferable Warranty
With our five-year, transferable warranty, you'll enjoy the peace of mind that your roof and entire home are protected.