About Roof Maxx of Westminster, MD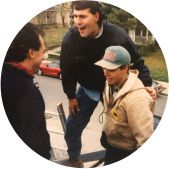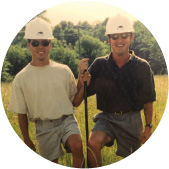 About our affordable roofing in Westminster, MD.
We've walked the walk as roofers.
Over 25 years ago, Todd and Mike Feazel—the founders of Roof Maxx—started their journey to create one of the largest and most successful roofing companies in the United States. Over time, they recognized a need for roof restoration and searched for a way to restore necessary oils to aging asphalt roof shingles.
Today, our Roof Maxx treatment is used throughout the U.S. to extend the lifespan of residential and commercial roofs and save customers thousands of dollars.
My brother and I could see the staggering number of roofs at risk across the country and wanted to do something about it. Now, through Roof Maxx, we're looking out for asphalt roofs, the people under them, their hard-earned money and the planet.

Mike Feazel
CEO, Roof Maxx
Your affordable roofing team in Westminster, MD.
Our family-owned and operated Roof Maxx dealership is led by Travis Wenrich and is your source for affordable roofing in Westminster, MD. We believe in doing our part to help homeowners save money while simultaneously helping the environment. We never take shortcuts and make sure our customers receive top-notch results and 5-star service.
About our Roof Maxx treatment.
Our innovative Roof Maxx treatment is 100% all-natural, plant-based, and safe for family, pets, and the environment. Shingles lose their natural oils over time and become brittle and inflexible. Roof Maxx restores shingle flexibility with all-natural bio-oils.
Each treatment is designed to extend the lifespan of your roof by five years, with a maximum of three treatments for a total of 15 years of life. At 20% of the cost of a total roof replacement, you'll save thousands of dollars with each treatment. Let us be your solution for affordable roofing in Westminster, MD. Contact us today to schedule a free estimate.
Roof Maxx is your trusted roof restoration company in Westminster, MD
Five Year Transferrable Warranty
With our five-year, transferrable warranty, you'll enjoy the peace of mind that your roof and entire home are protected.