About Roof Maxx of Greenwood, IN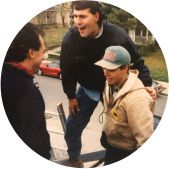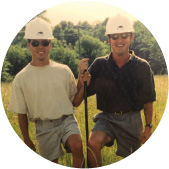 Discover the story of Roof Maxx affordable roofing in Greenwood, IN
We have years of experience in roofing.
Roof Max founders, brothers Mike and Todd Feazel, started their own roofing business in 1988. They spent the next 25 years growing that business into one of the largest in the country, and learned a thing or two about the roofing industry. One thing they noticed: Roofs just weren't lasting as long as they used to, due to a change in the shingle manufacturing process using less real asphalt and more limestone filler. That meant asphalt tiles were drying out faster and becoming brittle, prone to breaking and damage.
To find a sustainable solution, the Feazel brothers sold their business in 2013. Upon partnering with Battelle Laboratories, Roof Maxx was born. Our roof rejuvenation treatment is a 100% plant-based oil that penetrates shingles to restore their natural flexibility. Not only is this product sustainable, but it's also a fraction of the cost of roof replacement. Suddenly quality affordable roofing in Greenwood, IN was made possible.
My brother and I could see the staggering number of roofs at risk across the country and wanted to do something about it. Now, through Roof Maxx, we're looking out for asphalt roofs, the people under them, their hard-earned money and the planet.

Mike Feazel
CEO, Roof Maxx
Now we're happy to offer affordable roofing in Greenwood, IN.
Today, Roof Maxx is bringing revolutionary, affordable roofing to Greenwood, IN. We're keeping shingles out of landfills, making roofs last longer, and saving you money. Each treatment extends the life of your roof by five years per treatment, up to 15 years total, saving you thousands of dollars.
Roof Maxx of Greenwood, IN is owned and operated by Brent and Susan Shields. Brent and Susan are natives of central Illinois and have been in Greenwood since 2013. Since early 2020, Roof Maxx has been Brent's full-time focus. It's the ultimate combination of his two passions: business operations and household maintenance. Brent and Susan look forward to helping homeowners and businesses in the community extend the life of their roof with affordable roofing in Greenwood, IN. Schedule a free estimate today to start saving.
Contact Roof Maxx of Greenwood, IN
Roof Maxx is the best affordable roofing company in Greenwood, IN.