Roof Maxx of Greenwood, IN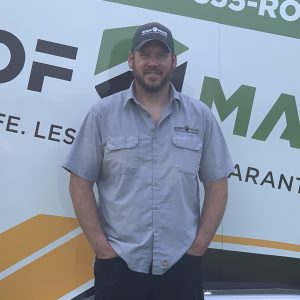 Brent Shields
Roof Maxx of Greenwood, IN
(317) 675-0062
---
bshields@roofmaxx.com
5284 W 700 S
Edinburgh, IN 46124
Roof Maxx roofing company in Greenwood, IN means no mess, no stress.
Asphalt shingles aren't what they once were. They're produced with less asphalt and more filler, so they dry out and fail faster. Fortunately, our roofing company in Greenwood, IN has a new technology that offers roof rejuvenation as an alternative to replacement. Using all-natural bio-oil to restore shingles' flexibility, Roof Maxx can add five years of life to a roof with just one application. It's safe, efficient, and affordable.
How to extend the life of your roof with Roof Maxx.
A Roof Maxx treatment can easily be done in a single day, taking only about 30 minutes to two hours to apply, depending on your roof. Your first treatment will add five years of life to your roof, and with two subsequent roof rejuvenation treatments, once every five years, you can add up to 15 years of life to your roof at only a fraction of the cost, and without the mess, of a full roof replacement. And while you're adding life to your roof, you're also keeping shingle waste out of landfills. Roofs as young as 6-8 years, or even as old as 20-30 years, can be restored through Roof Maxx.
Can Roof Maxx let me know if my roof is ready for treatment?
Absolutely. When you notice the small, sand-like pebbles of your shingles in your gutters, curling, flaking, and cracking, or dark streaks on your roof, it most likely means it's time to invest in roof rejuvenation treatment from our roofing company in Greenwood, IN. Our technicians will set up an appointment to assess your roof to determine if treatment is a good fit. They'll also do a review of the roof to let you know if there are any other deficiencies that you will need to address before application.
Contact our roofing company in Greenwood, IN
Here's how our easy process works:

We'll Assess Your Roof.
If it's a good candidate for Roof Maxx, we'll make an appointment for a bio-oil application. If not, we'll let you know which issues need to be addressed to make it a viable candidate.

We'll Apply Roof Maxx.
The Roof Maxx roof rejuvenation process usually takes a couple of hours maximum, and is completely natural and safe, so there's no need to leave your property during application.

Five Years. Guaranteed.
The 100% all-natural bio-oil will restore your shingles' flexibility for five years. A treatment also comes with a five-year warranty, and is transferable to the new owner if you move within that time.
Roof Maxx is your trusted roofing company in Greenwood, IN.