About Roof Maxx of Rockford, IL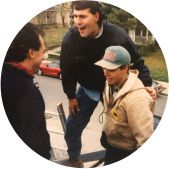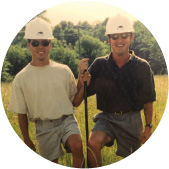 The history behind Roof Maxx affordable roofing in Rockford, IL.
Our founders know a thing or two about roofing.
Brothers Mike and Todd Feazel, who founded Roof Maxx and made affordable roofing in Rockford, IL possible, initially spent more than two decades building a successful roofing business. They learned everything there was to know about roofing, but over the years, they began to notice a decline in the amount of asphalt being used in the manufacturing process of asphalt shingles. They saw many asphalt roofs being replaced prematurely thanks to this change.
Basically, what started as an alteration to the oil refinement process caused a chain reaction that led to asphalt shingles drying out faster than ever before. With less of the natural oils contained in a given shingle, it was only a matter of time before shingles began to be affected. This left finding high-quality roofing at an affordable price in Rockford, IL harder to come by.
My brother and I could see the staggering number of roofs at risk across the country and wanted to do something about it. Now, through Roof Maxx, we're looking out for asphalt roofs, the people under them, their hard-earned money and the planet.

Mike Feazel
CEO, Roof Maxx
Roof Maxx makes affordable roofing in Rockford, IL possible.
Mike and Todd left their roofing company in 2013 to focus on roof rejuvenation techniques. They wanted to create a product that would allow asphalt roofs to function longer, saving home and business owners thousands of dollars. With the help of revolutionary technology from Battelle Laboratories, they were able to make that goal a reality with Roof Maxx.
One treatment of Roof Maxx adds five years of life to an asphalt roof at just 20% of the cost of a roof replacement. Because of Rockford, IL's warm, wet summers, and freezing, dry winters, we can treat roofs here as young as 6-8 years of age. Eddy Correll runs the family-owned and operated Roof Maxx branch in the area, and he and his team are ready and waiting to help you save thousands on a costly roof replacement when you choose Roof Maxx roof rejuvenation. 
Contact our team today to schedule a free estimate to learn exactly how much you can save with Roof Maxx.
Connect with Roof Maxx of Rockford, IL
Roof Maxx is your affordable roofing resource in Rockford, IL.