About Roof Maxx of Edwardsville, IL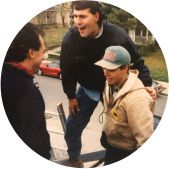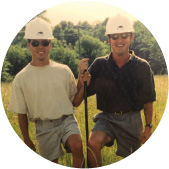 Learn more about Roof Maxx affordable roofing in Edwardsville, IL.
We know roofing because we are roofers.
During the 25 years that Mike and Todd Feazel worked diligently to create one of the largest and most successful roofing businesses in the nation, the goal was always to provide the most durable and affordable roofing product available in Edwardsville, IL. As they observed the way the manufacturing of asphalt shingles changed, resulting in a product that failed faster and did not last as long, they dedicated themselves to finding a solution.
As oil refining practices changed, asphalt became harder to come by and became much more expensive. To keep asphalt shingles affordable, manufacturers began using less asphalt and more filler, but this also meant less of the oils necessary for shingles to maintain their flexibility and durability, and withstand the heat of Edwardsville, IL summers and the cold and snow of an Edwardsville winter.
My brother and I could see the staggering number of roofs at risk across the country and wanted to do something about it. Now, through Roof Maxx, we're looking out for asphalt roofs, the people under them, their hard-earned money and the planet.

Mike Feazel
CEO, Roof Maxx
Offering affordable roofing alternatives in Edwardsville, IL.
In 2013 Mike and Todd sold their roofing company and worked to develop a roof rejuvenation system that is much more affordable and sustainable. Working with Battelle Laboratories, they developed a 100% all-natural oil spray treatment that can add 5 years of life to asphalt shingles with a single treatment. With subsequent treatments every 5 years, you can add 15 years of life to an asphalt shingle roof.
Not only does it save you about 80% of the cost of a full roof replacement, but a roof rejuvenation treatment through Roof Maxx also saves the environment by keeping excess roof replacement and construction waste out of landfills.
Connect with Kris Dothager of Roof Maxx in Edwardsville, IL to schedule a free estimate today
Roof Maxx—your affordable roofing resource in Edwardsville, IL.
Five Year Transferable Warranty
With our five-year, transferable warranty, you'll enjoy the peace of mind that your roof and entire home are protected.