ROOF MAXX OF
Edwardsville, IL
Roof Maxx a safe, easy, proven and affordable alternative to a complicated, expensive and life-disrupting asphalt roof replacement.
AS SEEN ON: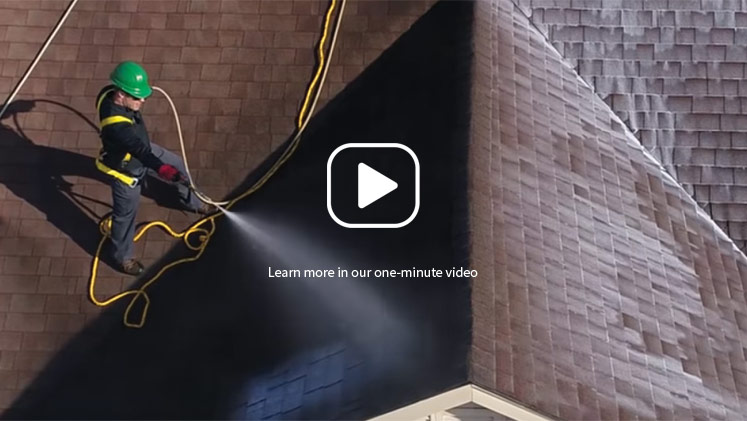 Be prepared with the help of our roofing company in Edwardsville, IL.
Whether you're a roofing expert or a first-time homebuyer, it is important to find a roofing company in Edwardsville, IL, that you trust. Roof Maxx strives to provide outstanding customer service with products that will renew your roof at a fraction of the price. When you apply our penetrate formula, you'll gain 5 years of roof life per treatment at 20% of the price of a roof replacement.
Weather life's storms with Roof Maxx.
Not only are asphalt roofs not as durable as they used to be but the rainstorms, humidity, and tornadoes in Edwardsville can quickly wear your roof down. You may begin seeing cracks, streaks, dents, and rolling as time goes by, and this is when it's time to call our roofing company in Edwardsville, IL, for a free Roof Maxx quote. Once Roof Maxx is applied to your roof, not only will you save thousands over a roof replacement, but your shingles will be rejuvenated—leaving your house protected.
Is Roof Maxx too good to be true?
Roof Maxx was created by two brothers who owned a roofing company of their own. From their experience, they created a food-grade, plant-based formula that penetrates asphalt shingles, restoring their natural oils. Every time Roof Maxx is applied, you add 5 years of life to your shingles and we can apply Roof Maxx up to 3 times. A typical asphalt roof lasts around 10 years before it starts showing signs of aging, but Roof Maxx can more than double its lifetime (while saving you a lot of money). Still don't believe us? Our customers have put it to the test.
It All Adds Up
Roofingmakes up 10% of construction waste in landfills
And creates 13.5 million tons of waste annually
Good thingRoof Maxxcosts just 20% of a roof replacement
And can extenda roof's life by 5 years with one application
Make that 15 years with applications every five years
Contact our roofing company in Edwardsville, IL
How the whole thing works:

We'll Assess Your Roof.
Don't worry, our roofing company in Edwardsville, IL, will come out and take a look at your roof before applying Roof Maxx.

We'll Apply Roof Maxx.
Unlike major roof repairs and replacements, Roof Maxx is applied in 1 or 2 hours and dried in less than 1. Don't waste time and save money with a quick Roof Maxx application.

Five Years. Guaranteed.
Roof Maxx rejuvenates your asphalt roof shingles by penetrating oils into the shingles. Once Roof Maxx is applied and dried, we guarantee another 5 years of roof life.
Get a free quote from our roofing company in Edwardsville, IL, today, and gain the benefits from Roof Maxx.
How do I know if my roof is ready for Roof Maxx?
Asphalt shingles contain small, sand-like pebbles that stick together when shingles natural oils are intact. Once those oils start to dry out with age, you may see the granules flaking off in your gutters or downspouts. You might also notice black stains and streaks or shingles cracking, breaking, and curling. Since each roof is different, your local dealer will perform a free inspection to tell if Roof Maxx can help you.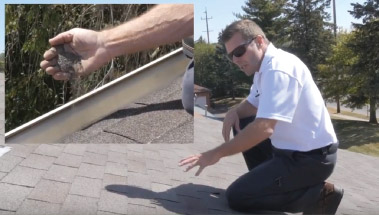 Roof Maxx also saves time.
Five Year Transferable Warranty
With our five-year, transferable warranty, you'll enjoy the peace of mind that your roof and entire home are protected.