Roof Maxx of Sarasota, FL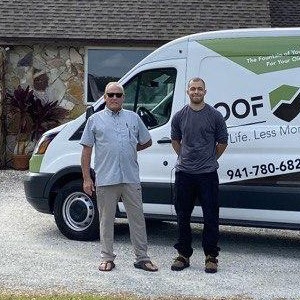 Roof Maxx of Sarasota FL
(941) 780-6826
---
dlunger@roofmaxx.com
Sarasota, FL 34236
Your local roofing company in Sarasota, FL.
Roof Maxx is only 15-20% of the cost of roof replacement.
Roof Maxx can add up to 15 years of life to your existing asphalt shingles. At 15-20% of the cost of a roof replacement, we can protect your home and save you thousands of dollars.
Roof Maxx founders Mike and Todd Feazel wanted to help home and commercial property owners across the nation with an affordable and sustainable solution. With their 30 years of industry experience, they worked closely with Battelle Labs to create an innovative, 100% naturally plant-based treatment that's both effective and affordable.
Safe and affordable roof restoration in Sarasota, FL.
The Roof Maxx formula works by rejuvenating the natural oils in asphalt shingles, bringing them back to like-new condition. Instead of a total replacement, you save thousands of dollars and avoid contributing to the 11 million tons of annual roofing waste in landfills for an environmentally-friendly solution.
Roof Maxx is quick, affordable, and 100% safe for people, and animals. Our roofing company in Sarasota, FL can service your residence or commercial property in under two hours depending on the property size. Roof Maxx can be applied up to three times, adding up to 15 years to the life of your roof. If you're searching for an affordable roofing company in Sarasota, FL, call to schedule an appointment for a free estimate and assessment of your roofing needs.
Connect with Roof Maxx of Sarasota, FL
Roof Maxx is your affordable roofing company in Sarasota, FL.