About Roof Maxx of Centennial, CO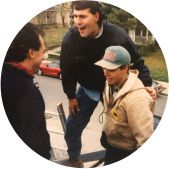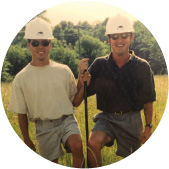 How Roof Maxx is bringing affordable roofing to Centennial, CO
We took on the biggest problem in roofing.
Our founders, brothers Mike and Todd Feazel, started and built one of the largest roofing companies in the United States. In the process, they spent 25 years learning all the ins and outs of the roofing industry. During that time, they observed changes in how materials are made and how the lifespan of asphalt roofs became shorter and shorter.
Asphalt shingles don't last as long as they used to because changes in oil refining have left less oil available for roofing. Asphalt shingles need natural oils to remain flexible and expand and contract with the weather. Less oil means asphalt shingles dry up faster and become brittle and prone to damage. Most home and business owners are left with no other alternative than costly roof replacement. That's why Mike and Todd decided to bring quality affordable roofing to places like Centennial, CO and other communities nationwide.
My brother and I could see the staggering number of roofs at risk across the country and wanted to do something about it. Now, through Roof Maxx, we're looking out for asphalt roofs, the people under them, their hard-earned money and the planet.

Mike Feazel
CEO, Roof Maxx
Then we brought the solution for affordable roofing to Centennial, CO.
Mike and Todd pioneered roof rejuvenation with Roof Maxx. They worked with Battelle Laboratories, the world's largest research and development company, to create a formula that restores the oils in asphalt shingles. This gives roofs everywhere five years of added life per treatment, and up to 15 years total after three regular applications. Since asphalt roofs are failing faster than ever, you can save thousands with Roof Maxx treatments.
You can get this innovative roofing solution from your local Roof Maxx owner in Centennial, CO, Casey McMullin. Our team is ready to help you get more years out of your current roof. You'll save on the construction headaches that come with replacing your roof and also help the environment by keeping your restored shingles on your roof instead of in the local landfill. To get started, contact us today and we'll schedule a free estimate.
Connect with Roof Maxx of Centennial, CO
Roof Maxx is your affordable roofing resource in Centennial, CO.
Five Year Transferable Warranty
With our five-year, transferable warranty, you'll enjoy the peace of mind that your roof and entire home are protected.