About Roof Maxx of Monterey, CA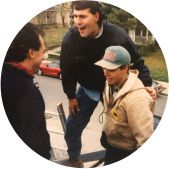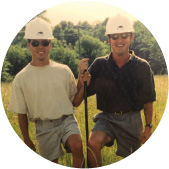 How Roof Maxx brought affordable roofing to Monterey, CA.
How we created the world's first sustainable roofing product.
For 30 years, our founders, brothers Mike and Todd Feazel, learned the ins and outs of the roofing industry. After starting one of the most successful roofing companies in the United States, the brothers turned their attention to sustainable and affordable roof rejuvenation. They noticed that a change in oil refining has caused asphalt shingles to more quickly become brittle, weak, and ineffective.
Using revolutionary technology, they partnered with Battelle Laboratories to create a roof rejuvenation product formulated from a micro-beaded, 100% natural, plant-based oil that soaks deep into shingles to restore their flexibility. As a result, a roof is restored to like-new condition and can effectively withstand heat, wind, rain, and hail damage. Today, we're providing affordable roofing in Monterey, CA that saves our customers thousands of dollars.
My brother and I could see the staggering number of roofs at risk across the country and wanted to do something about it. Now, through Roof Maxx, we're looking out for asphalt roofs, the people under them, their hard-earned money and the planet.

Mike Feazel
CEO, Roof Maxx
We're committed to affordable, green roofing in Monterey, CA.
Roof Maxx is proud to provide affordable roofing in Monterey, CA and throughout the nation. By extending the lifespan of your existing roof, you avoid the need for premature roof replacement, a time-consuming and expensive process. A single treatment of Roof Maxx costs a fraction of typical roof replacement and extends the lifespan of your roofing system by five years. We're also helping to reduce the amount of construction waste in landfills and doing our part to help the environment with our sustainable treatment.
Roof Maxx is proud to work with local Monterey dealer Bill Carmichael, who also provides tune-ups, and minor roof repairs. Bill's team consists of long-time professionals in the real estate and construction industry whose ultimate goal is saving clients money and offering an effective solution for a complete roof replacement. Let us help you determine if your roof could benefit from a Roof Maxx treatment. Request a video roof inspection for a free estimate.
Connect with Roof Maxx of Monterey, CA
Roof Maxx is your affordable roofing resource in Monterey, CA.
Five Year Transferable Warranty
With our five-year, transferable warranty, you'll enjoy the peace of mind that your roof and entire home are protected.